Director of RIT's Hospitality School Appointed Chair Emeritus
International service and educational opportunities to be the focus of new role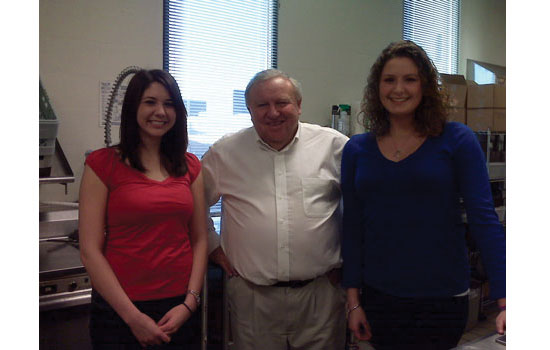 Francis Domoy, director of the School of Hospitality and Service Management at Rochester Institute of Technology, has been appointed chair emeritus, according to Fred Walker, dean of RIT's College of Applied Science and Technology.
Domoy had served as the school's director since 1980. Over his 30-year tenure, he helped to establish significant local and international partnerships between RIT and prominent travel and hospitality organizations.
Locally, Domoy was part of the team that launched the New York Wine and Culinary Center and led the acquisition of numerous grants for scholarly research and successful fund-raising for the School of Hospitality and Service Management's recent renovations. In the international arena, he was instrumental in the establishment of the American College of Management and Technology in Dubrovnik, Croatia.
"Fran has often been called one of ACMT's founding fathers," says Walker. "Additionally, he established and cultivated the international advisory board which continues to guide the School of Hospitality and Service Management's growth and development."
Domoy will continue in this area, and most recently made a proposal to the European Council on Hotel, Restaurant and Institutional Education board of directors to convene the group's next international conference in Dubrovnik. The bid was accepted and the conference will take place in Croatia in 2011.
"The hospitality and service management industry is growing, especially in places like Eastern Europe," says Domoy. "Developing countries such as Croatia and Montenegro have become travel destinations for casual tours, international film locations and business travel. RIT can be very influential in the international hospitality industry in these countries and around the world with our faculty and graduates."
As part of his new role Domoy will also be involved in providing support and placements for the RIT Study Abroad program and will participate in the development of personnel and operations in new corporate hotel and restaurant facilities.
"His passionate commitment to student, faculty and staff success has also helped to shape, guide and build the School of Hospitality and Service Management into an internationally renowned and respected academic resource for students pursuing careers in the hospitality and service management industry," Walker says. Interim co-chairs were appointed prior to a national search expected to take place next year.