Dollars, food, clothes and awareness raised for RIT's 50 Acts of Kindness
Giving back to the community marked 50 years of RIT in Henrietta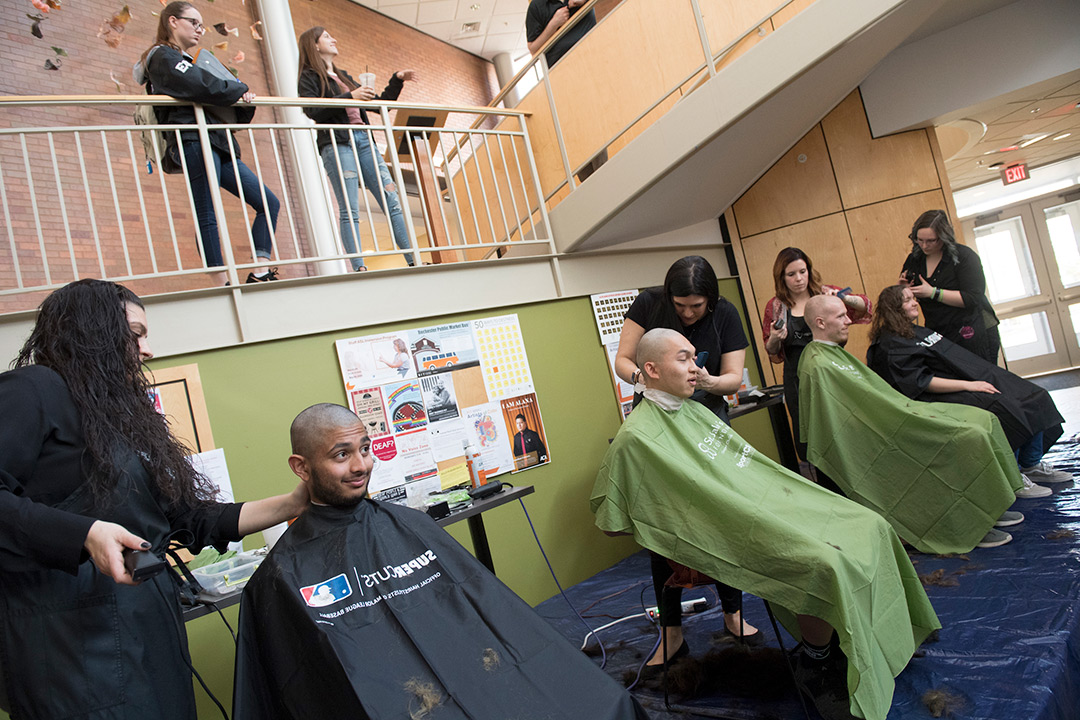 A. Sue Weisler
More than 2,400 Rochester Institute of Technology students, faculty, staff and alumni helped RIT commemorate 50 years on the Henrietta campus this academic year by giving back to the community with "50 Acts of Kindness," which featured blood drives, fund-raising, food donations and more.
"It was great to see so many people participating in events to help the community," said David Bagley, assistant vice president for campus life. "Many of our designated '50 Acts of Kindness' happen annually, and will continue now that our 50th anniversary in Henrietta is ending."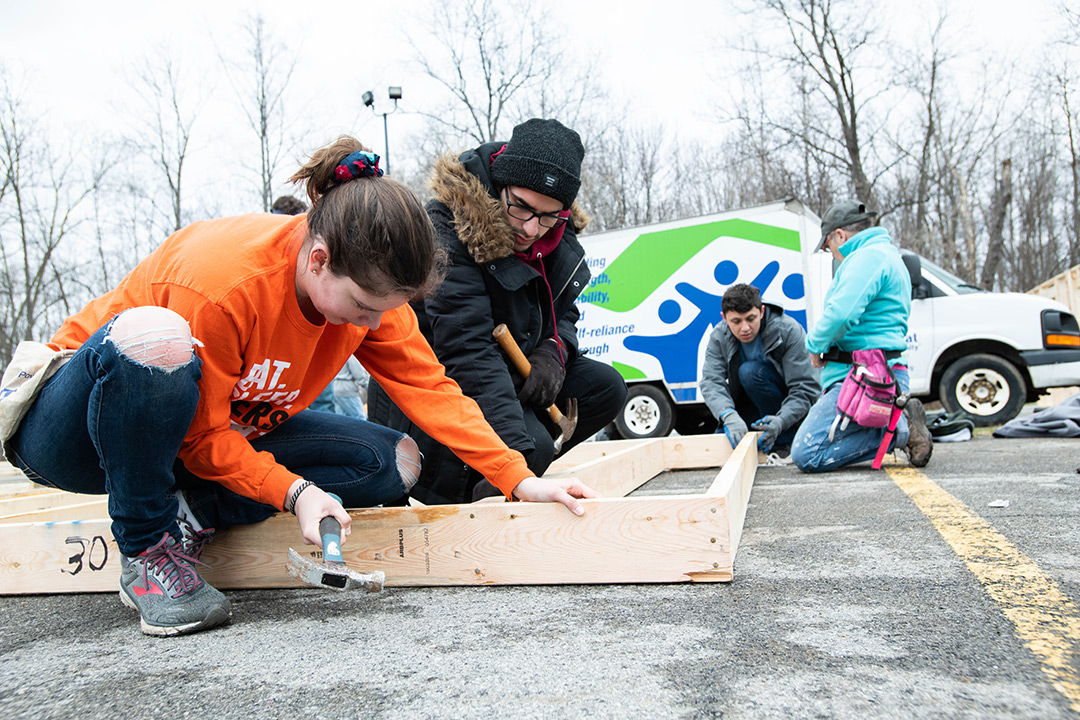 Gabrielle Plucknette-DeVito
Thousands of dollars were raised in numerous fundraisers for various causes. In addition to money, more than 185 people donated blood in the five blood drives at RIT during the academic year, and more than a ton of produce was delivered weekly to community organizations for livestock feed and compost. Additional food was donated to food pantries and shelters across Rochester, and other events raised awareness about various illnesses and health conditions.
The final official event of the initiative was a St. Baldrick's haircutting fundraiser last week to raise money for children's cancer research. RIT's Sigma Nu fraternity has raised more than $54,000 in the eight years it has organized the event on campus.
"It's a good cause to raise awareness for everyone to learn about childhood cancer," said event chairman Joey Ruggieri, a fifth-year finance major from Hopewell, N.J.
One of his fraternity brothers, Garrett Sollenberger, a second-year business major from Trumbull, Conn., raised more than $100 from family and friends before getting his head shaved.
"I've lost some family and friends through cancer, so I know from experience what cancer does," Sollenberger said. He said it's important to him to give back to the community, and he has participated in community clean-up and Habitat for Humanity projects in Rochester this year, as well.
One of the largest fundraisers was held in April. Relay for Life, which raised more than $105,000 for the American Cancer Society, featured at least one member of each team walking on the track of the Gordon Field House for 12 consecutive hours, signifying cancer never takes a break.
Alexis Collazo, a graduate student in media arts and technology from Sacramento, Calif., was a member of RIT's 40-member Tech Crew team that raised $22,120 for Relay for Life this year.
"RIT Tech Crew has participated in Relay for Life since its inception on RIT's campus because many members of Tech Crew have been impacted by cancer," Collazo said. "We have lost members to cancer, as well as family members, so we want to support the American Cancer Society in every way we can."
RIT Student Government President Bobby Moakley said he was thrilled the RIT community focused on giving back to the community this year.
"Giving back is the best way we can celebrate our development over the past 50 years," he said. "By supporting others, we are celebrating not only RIT's growth, but also our commitment to bettering those around us through service."