Donathan Brown selected to serve as Fulbright Scholar Alumni Ambassador
Assistant Provost and AVP for Faculty Diversity and Recruitment part of program's eighth cohort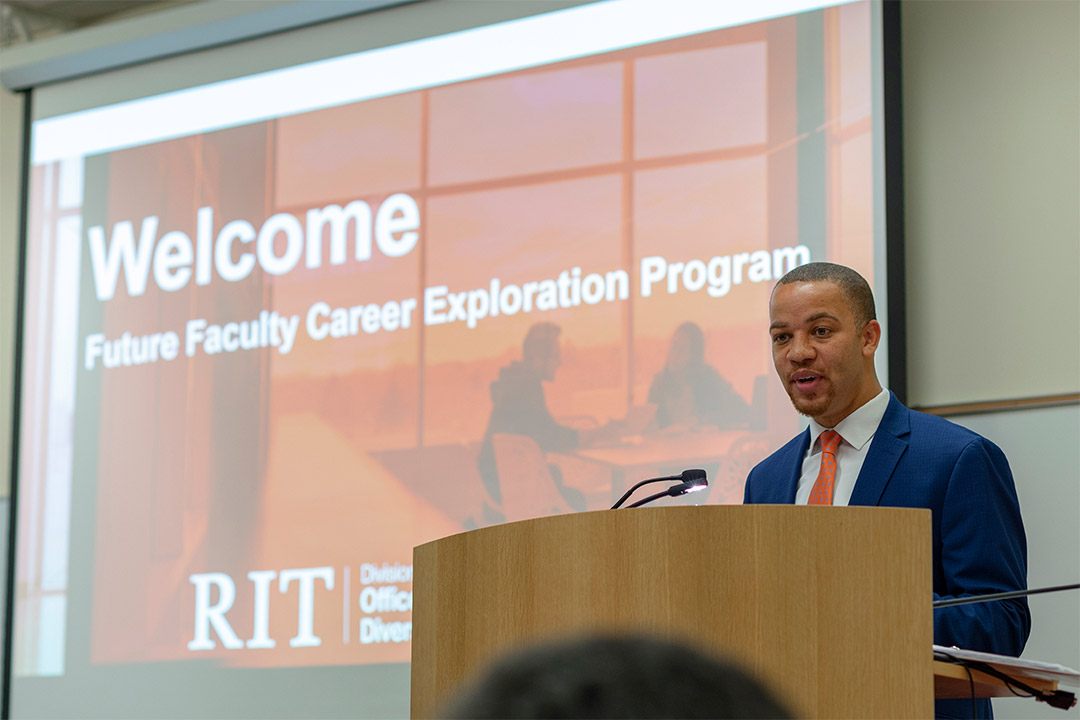 Elizabeth Lamark
Rochester Institute of Technology's assistant provost and assistant vice president for faculty diversity and recruitment is one of 13 scholars nationwide selected to serve in the latest cohort of the Fulbright Scholar Alumni Ambassadors program. Donathan Brown will serve a two-year stint in the program designed to increase the Fulbright U.S. Scholar Program's visibility nationwide and expand the diversity of future participants.
Brown's Fulbright experience brought him to Slovenia, to the University of Maribor from 2016-2017 for a project titled "Understanding race and American politics." During his time, Brown taught courses and engaged students in the department of English and American Studies. He also collaborated with the University of Maribor in co-organizing and serving as a plenary speaker at the 2019 international conference, "Words as a Battlefield: Persuasion in Contemporary Media and Political Discourse." Most recently, Brown was named to two Fulbright Scholars groups housed in Slovenia while also an active member of the Fulbright Specialist program.   
Brown speaks very highly of his Fulbright experience, noting, "I was a beneficiary of an excellent and prestigious program that sent me to a beautiful far away land and I seek to use that knowledge and experience to encourage more people from underrepresented communities to apply. When I was preparing to depart for Slovenia, I had questions pertaining to race and racism in the Balkans, yet there was no one who could address my concerns. I seek to use my ambassadorship not only to speak to underrepresented communities about the Fulbright program and guide them through the process, but to also ensure that such a mishap does not occur again." 
Brown is part of the eighth cohort of Fulbright Scholar Alumni Ambassadors program and the first person from RIT to serve in the role. Fulbright Alumni Ambassadors come from an array of backgrounds, geographic locations, disciplines, and institutions. They have participated in the Fulbright U.S. Scholar Program in all world regions and through all types of grant activities.
For more information about the Fulbright Scholar Alumni Ambassador program, visit the Fulbright website.
Topics