Dr. Sanjay Gupta to speak at Brick City Homecoming
RIT celebrates Brick City Homecoming & Family Weekend Oct. 16-19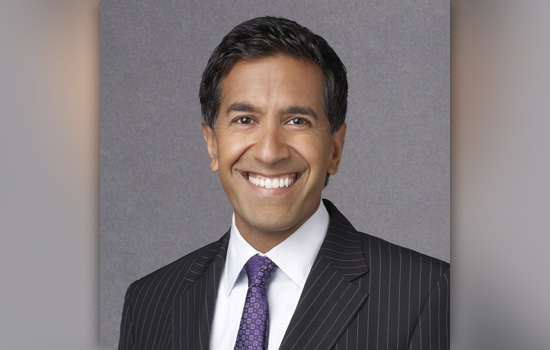 A talk by respected neurosurgeon, CNN Chief Medical Correspondent and Emmy-award winning journalist Dr. Sanjay Gupta will highlight Rochester Institute of Technology's Brick City Homecoming & Family Weekend Oct. 16-19.
Gupta will speak to students, faculty, staff, alumni and guests as the Horton Distinguished Speaker at 2 p.m. Oct. 18 in RIT's Gordon Field House and Activities Center. He will give a presentation, titled "Medicine and Media," followed by a question and answer session.
As chief medical correspondent for CNN, Gupta reports on health and medical news and anchors the medical affairs program Sanjay Gupta, M.D. He received two Emmy awards for his reports on the earthquake in Haiti and contributed to the network's Peabody Award-winning coverage of the oil disaster in the Gulf of Mexico and Hurricane Katrina.
In addition to his work for CNN, Gupta is a member of the staff and faculty at the Emory University School of Medicine. He is also the associate chief of neurosurgery at Grady Memorial Hospital and regularly performs surgery at Emory University and Grady hospitals.
RIT Student Government created the Horton Distinguished Speaker Series to profile nationally renowned speakers addressing relevant social and political issues. Past speakers include U.S. Presidents Jimmy Carter and Gerald Ford, and other prominent names such as athlete Earvin "Magic" Johnson, actors Michael J. Fox and Alec Baldwin, and former U.S. Rep. Gabrielle Giffords and astronaut Mark Kelly.
The weekend of celebration boasts numerous events on RIT's campus and in the Rochester area. Other features include:
Tour the Gene Polisseni Center, RIT's new home for men's and women's hockey. Free, guided tours of the new arena will be available throughout the weekend.
Jerry Greenfield, co-founder of Ben & Jerry's, will discuss his business philosophy during a presentation at 3 p.m. Oct. 17 in Ingle Auditorium, Student Alumni Union. The talk is a part of the Gasser Lecture Series, presented by RIT's Saunders College of Business, and will include ice cream for the entire audience.
The Presidents' Alumni Ball allows RIT alumni, along with classmates, family and friends, to join RIT President Bill Destler and Alumni Association President Ricardo Venegas '92 for an evening of celebration at RIT's Gordon Field House. The reception begins at 6 p.m. Oct. 17, followed by dinner, dancing, Vegas-style games and photos with the Big Freeze 360 degree camera, provided by alumnus Robert Latorre '75.
Men's hockey hosts 2014 NCAA Frozen Four participant Boston College at 7:05 p.m. Oct. 18 at Blue Cross Arena in downtown Rochester. All seating at Blue Cross Arena will be reserved—no general admission.
Tickets and registration for RIT's Brick City Homecoming & Family Weekend are available to members of the RIT community at the RIT Brick City Homecoming & Family Weekend website.
Topics