Dresser-Rand Donates Compressor, Data Acquisition System to RIT
Equipment to be used for engineering student projects and research in health monitoring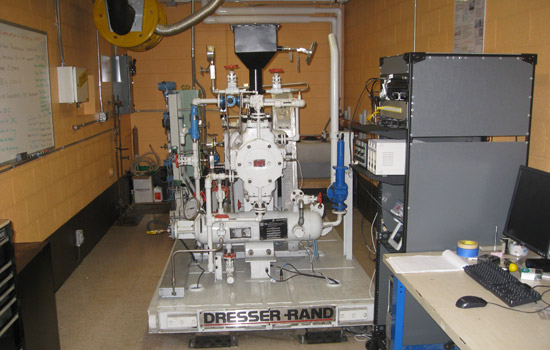 Provided by Jason Kolodziej
Rochester Institute of Technology announced that it received a donation of an advanced reciprocating compressor from Dresser-Rand. The compressor, valued at $90,000, delivers gases at high pressure in support of the oil, gas and petrochemical industries. It was installed in the Kate Gleason College of Engineering and will be used by faculty and students on multidisciplinary design projects and research.
"The donation of this equipment by Dresser-Rand has provided RIT with an unparalleled opportunity for engineering students to gain access to a production-quality piece of industrial machinery," says Jason Kolodziej, assistant professor of mechanical engineering.
He is using the equipment for educational laboratory-style experiments for several engineering courses, senior-design teams and co-op project experiences. Its primary function will be to support graduate research in machine health monitoring and fault detection, one of Kolodziej's areas of expertise. This fall, Dresser-Rand will provide an additional donation of a data acquisition system, valued at $45,000, to further support work being done in that area.
Both donations are part of Dresser-Rand's University Project Sponsorship program designed to provide universities with equipment and information to help advance knowledge of the engineering workforce and to further the company's initiatives, from recruitment to research.
"Establishing relationships with key educational institutions allows Dresser-Rand to leverage significant research, training, alumni and new graduate recruiting opportunities," says Bob Forness, Dresser-Rand's key client manager for the RIT program. "These types of partnerships allow us to improve our ability to recruit top engineering talent and increase access to cutting-edge research in the field."
Topics