Drivers as colorful as their license plates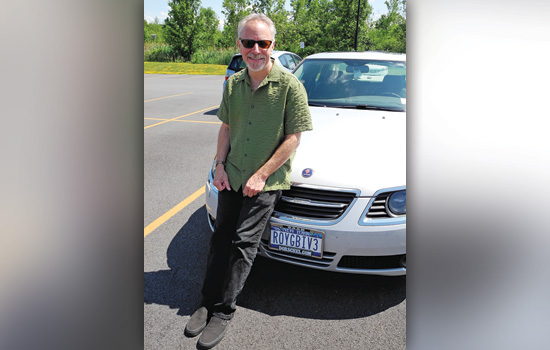 Have you wondered what "drives" people to put their passion on a plate? A license plate, that is. You'll find that many cars parked on campus with personalized plates are intended to cause a chuckle, start a conversation or reveal the driver's pastime or occupation. Here's an inside look at just a few of the RIT faces who are taking creative license with their rides.
B4GPIPER
Lex Sleeman, associate director of athletics, is well known for playing his bagpipes at new student convocations, graduations and special events on campus. He is often joined by the Keystone Club Police Pipes and Drums.
His plate, "B4GPIPER," attached to his 2003 Mini Cooper, "definitely draws attention," he said. "People ask, 'Do you play? Are you a bagpiper?' "
DEAF
Peter Hauser, a research faculty member at RIT's National Technical Institute for the Deaf, was surprised to find "DEAF" available when he checked the state's DMV website in 2000. He's had the plate ever since—or almost ever since.
"It's a popular plate and has been stolen off my car," he said. He ordered the plate as a form of self-identification and pride, not to alert others that he is deaf. But he admits it does make it easier at the border when he drives to Canada; the agents know he is deaf when he pulls up.
On campus, people see Hauser in his Nissan Juke and say, "You're the one with that license plate." Around town, other motorists wave, give him a thumbs up or the "I Love You" sign.
"All the time, I see people using their iPhones behind me taking pictures," he said. "Sometimes I have the sunroof open and wave."
KGCOE
People parking near Harvey Palmer should have no trouble figuring out which college at RIT he's associated with. In 2003, Palmer, dean of the Kate Gleason College of Engineering, put a license plate of "KGCOE" on his 50th Anniversary Corvette.
Once he was pulled over for passing a car. "As the policeman walked up to my car, the first thing he said before 'Good morning' or 'Do you know why I'm pulling you over?' was, 'I'm having trouble figuring out your license plate. How do you say it? Kka-gga-coey?'" Unfortunately, it didn't get him out of the ticket.
LINDYHPR
Beth Midavaine shows her love of jazz dancing from the 1920s and '30s by driving a car with "LINDYHPR" plates, representing the Lindy Hop dance.
"My license plate is an expression of my love for the dance itself," she said. "It was something I've been in love with since I've been in junior high. I love the whole era." Other than her work as a sign language interpreter at NTID, she's an advisor and former teacher of the RIT Swing Club. When not working, she often dresses in vintage clothing and hairstyle and teaches dance at Groove Juice Swing on Gregory Street in Rochester.
She ordered her plates in 2000. "Some people think Lindy is my name, but dancers recognize it automatically," she said.
ROYGBIV3
Roy Berns, a professor in color science, appearance and technology, got his "ROYGBIV3" plates as a gift from his wife. "ROYGBIV," "ROYGBIV1" and "ROYGBIV2" were already taken.
"It's a great choice because it is Newton's spectral colors and my first name," he says.
Once, a salesman helping him carry something to his car looked at his plate and congratulated him. "It took a bit to figure out why he was excited, but I realized he thought I had come out of the closet," Berns said.
TPS RPT
Not only does TPS represent Tyler Paul Schindel's initials, it also stands for "Testing Procedure Specification," a term very familiar to people who have seen the film Office Space, where the TPS Report was a running joke.
"I've had people pull up beside me on highways pointing and laughing at me," said Schindel, a 2014 information technology graduate and a systems analyst for NTID. "It throws me off guard because I'll forget about the license plate. Once they give me a thumbs up I usually remember, and they'll drive away laughing."
As a systems analyst, he spends much of his workday at a computer—although not making TPS Reports. Out of the office, the Oregon native enjoys hiking and four-wheeling with his Toyota Tacoma.
4 WINE
Lorraine Hems, a lecturer in RIT's Department of Hospitality and Tourism Management, has also worked in the wholesale and retail wine business for 30 years. She used to drive a car with "4 GRAPES" on the license plate, but people were confused by it. So she simplified to "4 WINE" about 10 years ago.
The plates, which have an image of a cluster of grapes on them, fit nicely with her Riesling-colored Hyundai and her grape-themed earrings, shirt and tattoo.
"I also work at the New York Wine and Visitor Center" in Canandaigua, she said. "Even yesterday, people saw it and said, 'Great license plate.' "
Put a tiger on your plates
The New York State Department of Motor Vehicles began offering RIT plates in 1994. There are 22 different college-themed plates available in New York, and RIT is the only Rochester-area college to have custom plates. Currently, 61 motorists drive cars with the RIT tiger plates, and 40 of those are personalized.
RIT President Bill Destler's plate is "1 RIT."
The plates cost $60 to order and $31.25 a year to renew. Personalized theme plates cost $91.25 to order and $62.50 a year to renew. The fees are in addition to the normal vehicle registration renewal fee.
To order an RIT plate, go to http://dmv.ny.gov/custom-plates/rochester-institute-technology.