'Edges of Books' Reveal Hidden Works of Art
RIT's Cary Graphic Arts exhibit explores the centuries-old beautification of books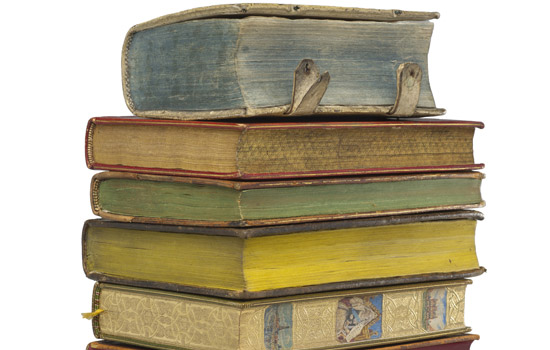 Now you see it, now you don't. The image is there when you fan the pages; it's gone when the pages are relaxed.
Can the edges of books reveal hidden paintings?
The Cary Graphic Arts Collection at Rochester Institute of Technology is hosting "Edges of Books," an exhibition that explores the centuries-old tradition of book-edge decoration featuring a selection of artifacts from the 16th century to the present.
The show runs from Oct. 1 through Dec. 14, with an opening reception from 5 to 7:30 p.m. Oct. 4. The event features a 6 p.m. talk by internationally recognized bookbinder Deborah Evetts—whose notable projects include the Smithsonian's "Ancient Crafts Revived" and a residency at the J. Paul Getty Museum.
In conjunction with the exhibition, practicing fore-edge painter Martin Frost will give a lecture on the intricacies of his art form at 6 p.m. Oct. 16 in Carlson Auditorium in the Chester F. Carlson Center for Imaging Science. The event is free and open to the public. Also, a limited number of seats are available for a daylong fore-edge painting workshop with Frost on Oct. 17.
According to Cary Graphic Arts Curator Steven Galbraith, the process of fore-edge painting begins by placing a book into a clamp with its pages fanned.
"A painting is applied to the surface of the fanned page and when the painting is dry, the book is shut and a layer of gold is applied onto the book's edges, thus hiding the painting. When the book is shut, all you see is the gold, but if you hold it and fan the pages, the painting appears."
The Cary Graphic Arts Collection holds more than 100 books with fore-edge paintings "featuring subjects as diverse as hunting scenes, Shakespeare's birthplace in Stratford-upon-Avon, the Taj Mahal and trains traveling the countryside," Galbraith says.
The Cary Graphic Arts Collection is located on the second floor of The Wallace Center at RIT. Hours are from 9 a.m. to noon and 1 to 5 p.m. Monday through Friday. For information, call 585-475-3961.
##
Note: The Melbert B. Cary Jr. Graphic Arts Collection at RIT is a renowned resource for those studying printing and graphic communications history, bookbinding, typography, papermaking, calligraphy and graphic design.