Embrace the snow during RIT's FreezeFest
Comics, global performances and bubble ball part of a three-day celebration of winter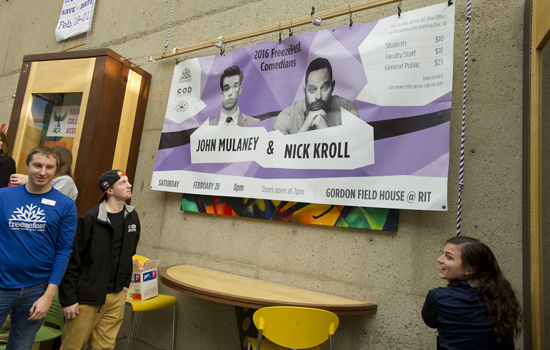 A. Sue Weisler
Flag football, an obstacle course challenge, an ice sculpture demonstration, miniature golf and drag queen bingo are all part of the seventh annual RIT FreezeFest, for students, faculty, staff to celebrate Rochester's winter season.
The festival, today through Sunday, is one of the largest events on campus and the largest in the winter season.
"The goal of FreezeFest is to bring the RIT community together in new ways to celebrate Rochester's cold and snowy months," said Bill St. Jean, associate director for campus programs. "Since its inception in 2010, FreezeFest has brought students, friends, families and the RIT community together for an assortment of winter-themed programs and events."
"Every year, it gets more creative and more fun," said Hannah Abele, a fourth-year industrial design major from Harrisburg, Pa., and the events coordinator for the RIT College Activities Board. "It's great to see the amount of people who look forward to it – they'll come out not just for the giveaways (hats, coats, blankets, lip balm and more this year) but they are happy to get a chance to enjoy a unique event."
One new feature this year is the One SpiRIT: Global Unification event held in the FreezeFest Ski Lodge in the Fireside Lounge from noon to 2 p.m. Saturday.
Students will have the opportunity to interact with RIT students in Croatia, Dubai and Kosovo and watch short videos of singing or dancing from each campus; judges will determine the best performance.
Each campus will have live viewing parties and hosts, and students will be able to interact and ask questions.
"It's an opportunity for RIT students to be united on all of our global campuses," said Luke Auburn, senior communication specialist for RIT's Human Resources Department. "Now we have an increasingly global presence, it can be difficult to interact with one another. Here, we'll have the opportunity to interact in real time to show what our campuses are about and what life is like on the other side of the world."
Students can post photos and follow news of the day by using #RITOneSpiRIT and visiting the RIT Global Unification Facebook page.
John Mulaney and Nick Kroll have been selected as the comedians who will perform Saturday evening.
Mulaney began working at Saturday Night Live in 2008 where he appeared as a "Weekend Update" correspondent. He stars in the sitcom Mulaney on the FOX network about a rising stand-up coming trying to take his career to the next level.
Kroll was creator and star of Comedy Central's Kroll Show which ran for three years, and most recently has been working with his long-time friend, Mulaney, on an off-Broadway show, Oh, Hello.
Tickets for Mulaney and Kroll are $10 for students, $18 for RIT faculty and staff and $23 for the public, and available online or at the RIT box office.
Unless otherwise indicated, all FreezeFest events are free and sponsored by the College Activities Board. They include:
Today:
Friday:
Saturday:
Sunday: