January 26, 2018
by Michelle Cometa and Rich Kiley
Emerging 3D-printing applications at RIT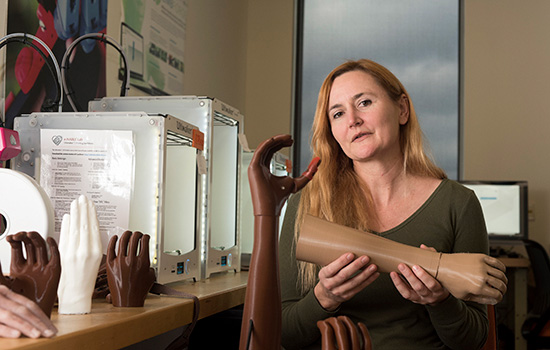 A. Sue Weisler
3D printing has taken hold at RIT. Across the university, people are influencing how the technology will evolve beyond manufacturing processes to everyday usage—from the development and use of new materials such as copper inks to new forms of artwork and the use of 3D-printed models in math classes. Here are only some of those influencers:
Making Waves: Nate Barlow and Steve Weinstein are making and using 3D-printed models of mathematical equations to illustrate wave systems and other fluid dynamics concepts as part of their research.
Life-like Limbs: Millions of people in impoverished countries need prosthetics. Helping to meet that need is Jade Myers, an RIT alumna and lab manager at the RIT Access Technology Prototyping Lab.
Taming Copper: Fifth-year chemical engineering major Tobias Hull has spent nearly two years helping develop a copper metal ink solution that could impact mass production of flexible electronics.
3D Ceramic Printing: Last February, the ceramics program in RIT's School for American Crafts hosted Bryan Czibesz for a three-day workshop during which students and College of Imaging Arts and Sciences faculty worked with the visiting artist to create a 3D printer from scratch.
Technology in gear: When a Rochester-area manufacturer experienced a broken gear shaft on a 1960s German-made machine whose parts have been long unavailable, RIT's Golisano Institute for Sustainability came to the rescue with a unique additive manufacturing solution.
Topics