Engineering college among top schools globally
'Business Insider' ranks RIT 27th for placing graduates in top technology companies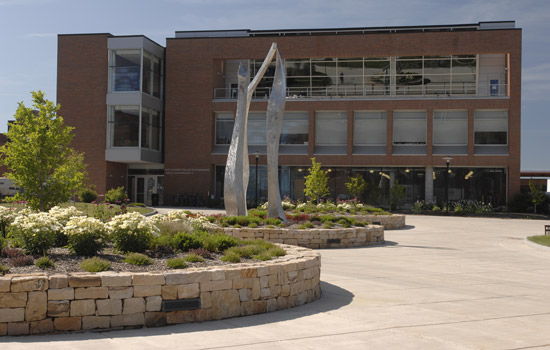 The Kate Gleason College of Engineering at Rochester Institute of Technology is ranked 27th among "The World's Best Engineering Schools," according to Business Insider magazine. A recent survey of top technology companies by the magazine ranked the top engineering colleges throughout the world based upon the educational value provided in advancing the careers of its graduates. In addition to academic excellence, the organization looked at the top employers of each school.
Overall, RIT has more than 95 percent of its graduates employed or in graduate school within six months of graduation. For graduates of the Kate Gleason College of Engineering, these statistics are even better, says Harvey Palmer, dean of the college.
"There is no question that our robust program of required cooperative education experiences is a major driver in this success," Palmer says. "Through our co-op program, every student, regardless of their GPA, is able to demonstrate to potential employers the high value that they can deliver on the job to enhance the company's bottom line."
More than 3,500 students a year across the university complete 5,500 co-op work assignments with 2,000 companies worldwide. Last year, those students generated more than $35 million in earnings through their employment with industry, business, government and the not-for-profit sector in the United States and in 40 other countries.
Business Insider canvassed engineers, industry professionals and entrepreneurs at top technology companies and asked them to grade schools on a value scale. The survey group also used LinkedIn to assess the top employers for each school.
"Coming on the heels of the news that both our industrial design and interactive games and media programs were ranked second this year, this new recognition is further evidence of RIT's rapid ascendancy into the ranks of the nation's, and world's, finest universities," says RIT President Bill Destler.
RIT's engineering graduates are working at companies that include IBM, Boeing, Toyota, Harris Communications and other global corporations. It is also one of the top feeder schools for the nanotechnology and semiconductor industry with a significant number of students employed at organizations including Intel, Global Foundries, Micron and Sematech.
"We work hard to be responsive to the needs of our employers and prepare our students to meet the dynamic requirements of our global industry partners," says Jacqueline Mozrall, associate dean, "and so we truly appreciate this recognition that derives directly from business and industry professionals."
Also included on the list were California Institute of Technology, Stanford and MIT as well as schools from Canada, India, Israel and the United Kingdom.
About Business Insider: Business Insider is a business publication focusing on financial, media, technology and other industry topics, dedicated to aggregating, reporting and analyzing the top news stories across the web and delivering to consumers.