Engineering Dean Harvey Palmer to retire
Career includes advances in undergraduate engineering education, development of inter-disciplinary doctoral programs and outstanding rates of retention for female engineering students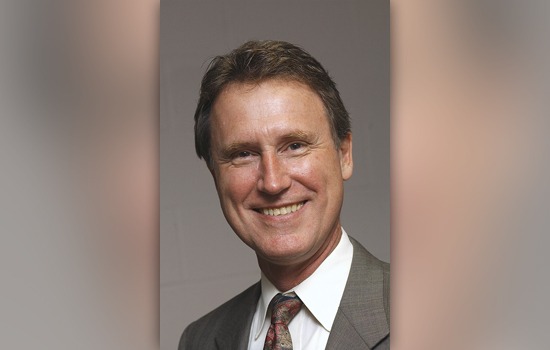 Harvey Palmer, dean of the engineering college at Rochester Institute of Technology, today announced his retirement from the college he has led for the past 15 years. Palmer, who shaped RIT's Kate Gleason College of Engineering into one of the top undergraduate and graduate engineering programs in the country, recognized for programs in nanotechnology, 3D printing and sustainable engineering, will step down June 30, 2016.
"It's time," said Palmer, adding that he is looking forward to spending more time with family and traveling. "We've accomplished extraordinary things in the college through our exceptional faculty and staff leaders. They've been so committed to our students and the success of the college."
Palmer was an integral part of that success, transforming the RIT engineering curriculum, adding new programs, including a doctoral degree in microsystems engineering in 2002 and a Ph.D. in engineering in 2014. He was instrumental in adding undergraduate degrees in chemical and biomedical engineering, a graduate degree in sustainable engineering, and a new curriculum option that focuses on product innovation within a global economy.
Even with demands of administering a large and growing college, Palmer also taught several classes in the chemical engineering and honors programs at the college.
Faculty diversity has also flourished over the past decade, and through his leadership the percentage of underrepresented minorities among faculty has grown to 15 percent, well above the national average of 3 percent. The number of women faculty has doubled, with women comprising nearly 17 percent of the engineering faculty at RIT, many in leadership position within departments.
Once engineering students graduate, they are highly sought after for jobs. In 2012, RIT's Kate Gleason College of Engineering was ranked 27th globally by Business Insider as one of "The World's Best Engineering Schools," based on surveys with technology companies that hire its graduates. The university ranks third nationally as one of the schools companies prefer when recruiting and hiring for positions in the aerospace and defense industries, according to Aviation Week's annual workforce study.
"During Dr. Palmer's time, the college has catapulted into the national limelight for its superb contributions to undergraduate and graduate programs that enjoy strong student demand and selectivity, and a terrific array of industry partners," said RIT Provost Jeremy Haefner. "The college is highly selective, an exemplar for the RIT teacher-scholar model, well ranked, and is an organization that deeply embraces academic excellence. We all can be proud of what the Kate Gleason College of Engineering has been able to accomplish under Dr. Palmer's leadership."
Prior to coming to RIT, Palmer held several positions at the University of Rochester as a chemical engineering faculty member from 1971 to 2000, including chair of the department and associate dean for graduate studies in the College of Engineering and Applied Sciences. He was twice recognized for excellence in teaching with the Undergraduate Teaching Award from the university. He has twice served as president of the Rochester Engineering Society, and was the recipient of its 2007 Leo H. East Engineer of the Year Award. At RIT, he won the Edwina Award for Gender Diversity and Inclusiveness in 2010.
Outside of RIT, Palmer is a licensed professional engineer and is the only academic who serves on the New York State Board of Licensure for Professional Engineers and Land Surveyors. He served for many years on the Board of Directors of Transcat, Corp., and for nine years on the Honeoye Falls-Lima School Board, serving two terms as its president.
For his accomplishments as a researcher, scholar, administrator and leader in the engineering field, Palmer was awarded the 2011 R. Wells Moulton Distinguished Alumnus Award in Academia from his alma mater, the University of Washington, where he received his doctoral degree. Awardees are recognized for their contributions to the engineering industry, faculty service in academia, and government, public or volunteer service.