Event highlights latest in plastics engineering
Latest in polymer engineering research and demonstrations take place on April 19 at RIT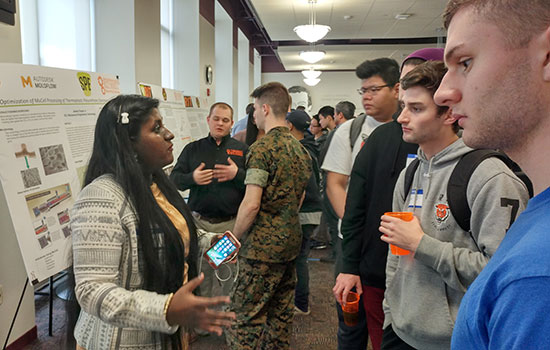 Rochester Institute of Technology will host Plastics Night from 5:30 to 7:30 p.m. on April 19 in the McGowan Commons in RIT's College of Applied Science and Technology. This is the second year of programming to highlight the latest research in plastics engineering—from materials and design to processing.
Some of the current applications for plastics and polymer engineering technology include health care, food services and transportation. RIT's faculty and student researchers will present research on a variety of topics including advanced composites, 3D printing, self-healing polymers, bioplastics and nanotechnology. Participants will also be able to tour the Plastics Lab and the AMPrint Center as well as  interact with plastics industry professionals.
"Attendees will find themselves immersed in a learning experience that is often behind-the-scenes of human progress. Plastics, quite literally, enables our technology, packaging and many structures to exist," said Samuel Lum, fourth-year mechanical engineering technology student and vice president of RIT's student chapter of the Society of Plastics Engineers.
The event is free and open to campus and the general public. More than 200 members of the professional and student chapters of the Society of Plastics Engineers are expected at the event that will include undergraduate and graduate student research projects and tours of the various labs in RIT's College of Applied Science and Technology.
According to a recent report by the Plastics Association, the industry remains the country's third-largest manufacturing sector overall, accounting for more than $418 billion in shipments in 2015 and nearly 1 million jobs. The industry trends include research into more sustainable materials and broader usage for products such as concrete, solar arrays and prosthetics, for example.