Exhibit celebrates 50th anniversary of Cary Graphic Arts Collection at RIT
Public reception held Oct. 9 in Wallace Library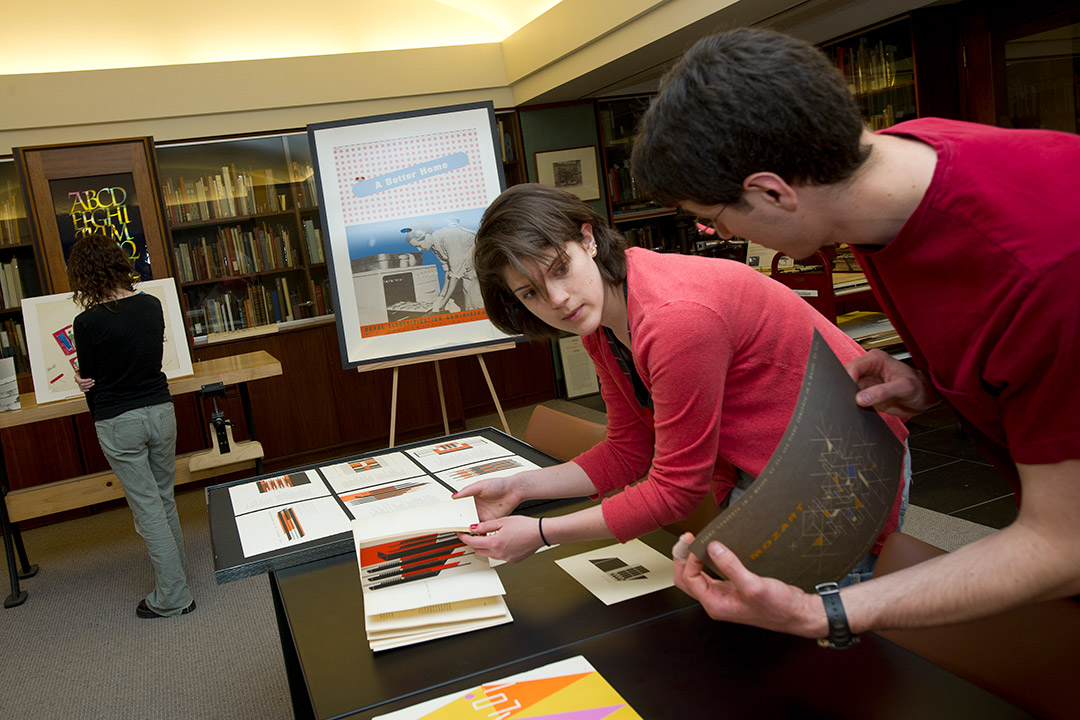 A. Sue Weisler
Rochester Institute of Technology is celebrating the 50th year anniversary of its internationally renowned collection of books and artifacts dedicated to the history of the printed word.
The Cary Graphic Arts Collection is hosting a retrospective exhibition, "The Founding Collection and Beyond," displaying pieces from the library that belonged to printer Melbert B. Cary Jr. and later acquisitions that have shaped the collection since its inception in 1969.
A public reception will be held at 4 p.m. Oct. 9 in the Cary Collection on the second floor of Wallace Library on the RIT campus. As part of the celebration, guests will be invited to make a commemorative printing on the Kelmscott/Goudy Printing Press. (The press once belonged to Cary and has a historical lineage of owners that includes Cary's contemporary and personal friend Frederick Goudy and 19th century British designer William Morris.)
The exhibit marks the evolution of the Cary Collection over five decades and features treasures from the founding collection and milestone acquisitions such as a display from The New York Times Museum of the Recorded Word documenting the Apollo 11 moon landing and a recently acquired libretto of the Noh play Utofu printed in Japan circa 1600. Among other items rarely displayed is the richly illuminated Hypnerotomachia Poliphi, (or The Strife of Love in a Dream, by Francesco Colonna), which Steven Galbraith, RIT Cary Curator, describes as "one of the most important books of the Renaissance."
The Cary Graphic Arts Collection, donated by the Mary Flagler Cary Charitable Trust, was initially housed in RIT's School of Printing and Management Sciences in James E. Booth Hall. The initial library consisted of 2,300 volumes dedicated to the history of printing.
Today, the Cary Collection has grown to 45,000 volumes, with content expanding into graphic design, calligraphy, the development of letter forms, the history of the book and materials related to book arts and fields including paper making, book design and bookbinding, said associate curator Amelia Hugill-Fontanel '02 MS (printing technology).
For further details about "The Founding Collection and Beyond," go to library.rit.edu/cary.
Topics