Exhibit highlights wildlife artist Arthur Singer
Original works on display from Aug. 7 to Oct. 28 will highlight 'lifelong love affair with nature'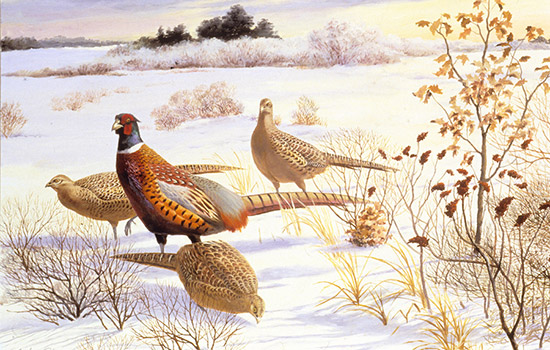 An exhibition highlighting a life-spanning selection of illustrations and paintings by wildlife artist Arthur Singer (1917-1990) will adorn Rochester Institute of Technology's University Gallery beginning in August.
"Arthur Singer: The Wildlife Art of an American Master" flies into the RIT gallery located inside the College of Imaging Arts and Sciences' James E. Booth Hall from Aug. 7 to Oct. 28. The show highlights one of the world's finest painters of birds and nature scenes enjoyed by millions and will be co-curated by Alan and Paul Singer. The famed artist's two sons will recount the stories behind some of their father's iconic artwork and illustrious life during a reception inside the gallery from 5 to 7 p.m. on Friday, Sept. 8. The reception is free and open to the public.
"This exhibition, really for the first time, will highlight my father's drawings and paintings dating back to his teenage years in the early 1930s all the way up until the last year of his work in 1989," said Alan Singer, a School of Art professor in the College of Imaging Arts and Sciences.
Growing up in New York City, Arthur Singer began drawing wildlife scenes as a young teen. He became endeared to the work of American ornithologist, naturalist and painter John James Audubon and occasional family outings to the Bronx Zoo and the American Museum of Natural History.
"Is it a coincidence that my father grew up on Audubon Avenue in the Washington Heights section of New York City?" Alan Singer quipped.
Arthur Singer turned his love and appreciation for jazz in the 1930s into successful commercial work for the likes of legends such as Duke Ellington and Rochester-native Cab Calloway, both for whom he created album covers and colorful bandstands.
"They stayed lifelong friends," Alan Singer noted.
Arthur Singer later attended The Cooper Union Art School, where he graduated from with honors in 1939. In the 1940s, he served during World War II within a secret battalion dubbed "The Ghost Army" with other artists, theater lovers and sound technicians whose camouflage and diversions were a resounding success in deceiving the Germany army.
After the war, Arthur Singer taught briefly at Cooper Union before working as an art director for a New York City advertising firm. From the 1950s forward, his love of nature and his knowledge of birds and animals propelled him into a career of wildlife art that spanned the remaining 40 years of his life.
In all, Alan Singer said, the RIT exhibition will feature more than 50 artworks underscoring his father's major achievements, including 20 books he illustrated as well as his hugely popular Birds and Flowers stamps that Arthur and Alan Singer illustrated together in the early 1980s.
"They were a huge hit," recalled Alan Singer, who added that additional exhibit artworks will come from museums and private collections as well as from his father's estate. "Many of his artworks also will be available for sale," he said.
He proudly added that bird watchers likely have consulted his father's book, the Golden Guide to Birds of North America, which remains in print years after its first edition back in 1966, along with his other bird guides that became bestsellers.
"The art that people will find at this exhibition is the result of a lifelong love affair with nature, and it highlights his gift for artistic expression that started out while he was still a teenager," Alan Singer said. "The wildlife art he practiced and later mastered has a long history that goes back thousands of years to the cave painters.
"There is something primal that we can connect to when we wonder about the lives of the birds and animals that Arthur Singer made during his 50-year career," he added.
Alan and Paul Singer also have co-authored a biography whose title shares the same name as the exhibition. The book will be offered for sale at the show's opening as the public rollout for the biography of Arthur Singer, published by RIT Press, the scholarly publishing enterprise of RIT.
In addition, a list of guest speakers will participate in the exhibition, including:
John Fitzpatrick, director of the Laboratory of Ornithology at Cornell University, at 5:30 p.m. Sept. 14.
Author David Wagner, who will speak about the history of wildlife art in America, at 5:30 p.m. on Sept. 21.
Rick Beyer, author of the book and documentary The Ghost Army, who will speak and present his film at 5:30 p.m. on Oct. 5.