ExOut Extremism receives award at NYC tribute emceed by CNN's Wolf Blitzer
State Department extremism competition winners recognized for "Fight Against Online Hate"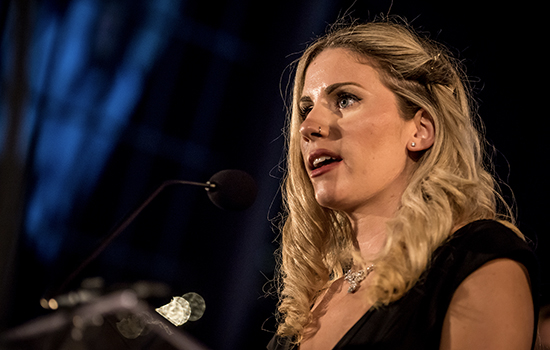 Global Campaign Event
Students from Rochester Institute of Technology who won a State Department competition for using online social media to combat terrorism attended a star-studded gala last night to receive an award for their work.
The dinner and awards ceremony, held at The Metropolitan Museum of Art in New York City, honored 12 individuals and groups for their extraordinary contributions to the global campaign against violent extremism. The event was emceed by CNN Lead Political Anchor Wolf Blitzer. The evening included a posthumous tribute to Elie Wiesel by Ambassador Ronald Lauder in the presence of Marion Wiesel.
In June, the RIT students won first place for their It's Time: ExOut Extremism social media campaign in the Peer to Peer (P2P) Challenging Extremism initiative hosted by the Department of State and the Department of Education and Cultural Affairs.
"It was truly an honor to receive the 'Fight Against Online Hate' award and we were honored to be among these exceptional individuals who are also working to combat the issue of violent extremism," said It's Time CEO Olivia Hauck '16 (advertising and public relations) from Irondequoit, N.Y.
"On behalf of the entire It's Time team we would like to express our gratitude to Tony Sgro from EdVenture Partners and Professor Adriana Bóveda-Lambie from RIT's Saunders College of Business for presenting us with the opportunity to participate in the P2P program," said co-CEO Jessica Kellner, '16 (new media marketing) from Honeoye Falls, N.Y. "It's Time has grown in ways we never even imagined and we can't wait to see what the future holds."
The RIT "It's Time" team joined world leaders and representatives of international organizations, non-governmental organizations, corporations and the media, with speaker Irina Bokova, director-general of UNESCO, and presenters that included actor Forest Whitaker and jazz legend Herbie Hancock.
Bóveda-Lambie said she couldn't be prouder of the 17-member team of students from her social media marketing class who worked with the Muslim community in Rochester, N.Y., to develop a campaign that included a logo, website, social media, video platforms and events to raise public awareness.
"Receiving this award is simply amazing, and I'm so happy that It's Time and the students are getting the recognition they deserve for their continued passion and dedication to challenging extremism online," said Bóveda-Lambie "We'll be applying for grants that will allow us to continue our work."
The RIT team was the only university from the United States to reach the finals in the P2P competition, and defeated finalist teams from Versalius College in Brussels and Khazar University in Baku, Azerbaijan.
The State Department initiative is managed by EdVenture Partners and supported in part by Facebook. Judging this year's competition were officials from the State Department, Facebook, the U.S. Department of Homeland Security, the Combating Terrorism Technical Support Office and the National Counterterrorism Center.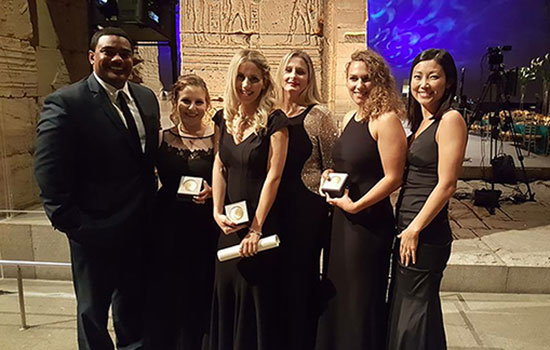 Topics