Extraordinary times at RIT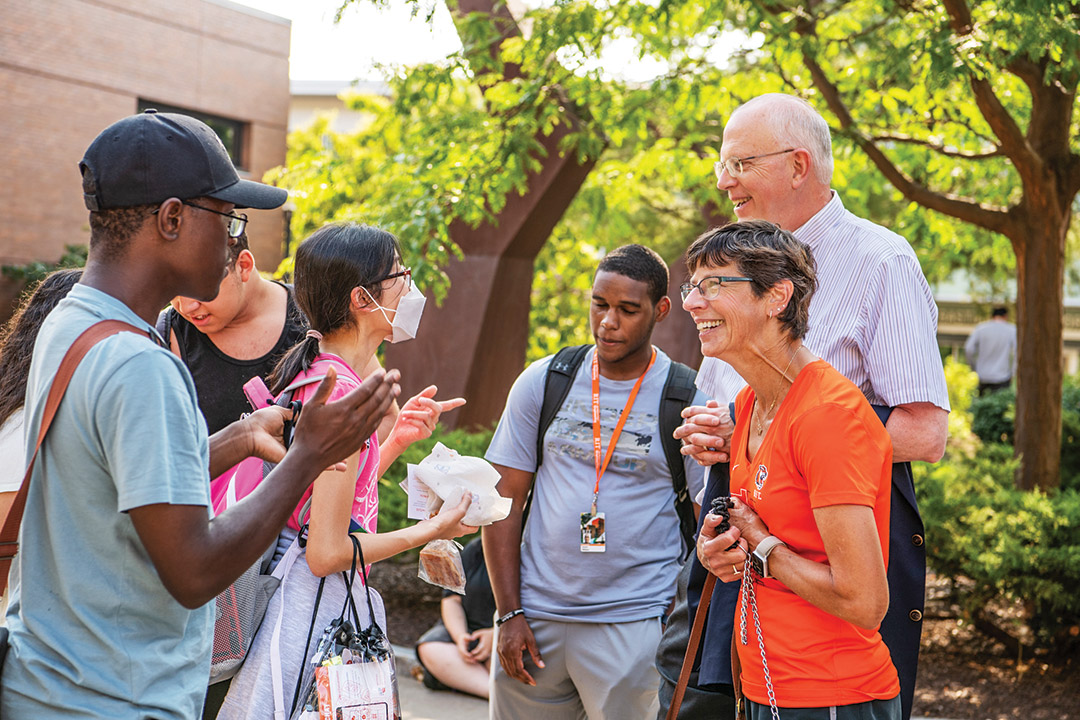 The vibrancy on campus has returned! We have proven to be one of the safest campuses in the nation throughout the pandemic. This allows us to have our eye on the future.
Let's begin with our growing enrollment. The university welcomed a record number of first-year undergraduate students. Overall enrollment is more than 19,700 students when you factor in our campuses in China, Croatia, Dubai, and Kosovo.
Construction is underway on RIT's makerspace and educational complex at the center of campus. The SHED—the Student Hall for Exploration and Development— will include huge makerspaces, classrooms, a black-box theater, dance studio, and music rehearsal rooms, and is on track to open in fall 2023. 
RIT is in the process of designing a performing arts center that will feature a 750-seat theater and eventually a 1,500-seat orchestra hall for larger audiences. The new facilities are an essential part of RIT's plan to develop the leading performing arts program in the nation for non-majors. Construction on the first phase is scheduled to commence in spring of 2022 with a completion date of fall 2023.
Saunders College of Business is poised for major expansion and renovation that will almost double the size of the college.
The renovation of RIT's College of Art and Design is moving at a brisk pace with a key focus inside Gannett Hall.
A multi-phase plan to upgrade athletic facilities also began. The first phase of the department's multimillion-dollar stadium project is the relocation of the outdoor track across the road from its current location. New baseball and softball fields are also under construction with upgrades to all-weather artificial turf fields, which will be ready for play in spring 2022.
Overseas, construction of the first phase of RIT Dubai's new $136 million campus is complete. The new campus will be able to accommodate up to 4,000 students. 
None of this would be possible without Transforming RIT, our "Campaign for Greatness."
Our campaign seeks support from a variety of investors, including alumni and friends, government and corporate partners, and research foundations and agencies. The finish line is nearing, yet there's more to accomplish.
We're continuing to raise money for student scholarships, we're elevating our research to even greater heights, and we are focused on attracting and retaining the best and brightest faculty.
The $1 billion campaign now stands at $832 million. Everyone is invited to help us transform the future by joining the Campaign for Greatness in this final stretch.
This is an extraordinary time for RIT, and with our amazing community of creators and innovators we are definitely on to something amazing!
Yours in Tiger pride,
David C. Munson Jr., President
munson@rit.edu
Twitter: @RITPresident