Faculty Development Grants power new ideas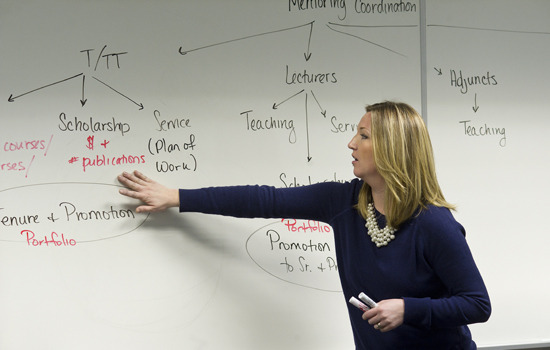 A. Sue Weisler
A couple times each semester, Deana Olles gets together with faculty in RIT's School of Mathematical Sciences for a mentoring meeting.
"It's a chance for us to sit down for lunch or snacks and say what's going great and what needs work in our professional lives," said Olles, a senior lecturer in the school. "We've found that together as a group we can help each other solve any problems."
The meeting is just one element of the mentoring program the school put in place this year to assist faculty with promotion, scholarship and teaching, professional development and pedagogy. The growing program is made possible with help from grants offered through RIT's Faculty Career Development Services (FCDS).
Since 2012, The Wallace Center and the Office of the Provost have partnered to support and advance academic careers by funding faculty proposals. Grants are offered for projects and activities related to faculty mentoring and professional development for both lecturers and adjunct instructors. New this year, FCDS is launching a College Collaboration Grant program to support a wider range of projects related to faculty success, leadership development, mentoring and promotion.
"We're providing the resources and materials to let faculty do the things that they might not ordinarily be able to do," said Anne Canale, a faculty career development consultant. "Whether it's to form a mentoring group, attend a workshop or develop new curriculum, we're here to help."
For Eric Kunsman, a lecturer in NTID's Visual Communications Studies Department, the grant will allow him to reconnect with students in his 2001 Photography 1 course, in which they collected media from around the world on the day of the Sept. 11 terrorist attacks. He plans to interview alumni about the classroom experience, create an exhibit at Gallery r and publish a book about the class.
For Mark Olles, an assistant professor of mechanical and manufacturing engineering technology, the funding supported a benchmarking group that brought in speakers from other engineering colleges to discuss what methods and models they use to successfully secure funding, disseminate scholarly works and how best to work with their sponsored research teams.
"Faculty development is important because things are always changing and we need to stay current," said Lynn Wild, associate provost for faculty development and The Wallace Center. "The interdisciplinary projects that we support are helping to make RIT a better place to work and learn."
About Faculty Development Grants
More than 30 grants were awarded for 2015-2016
Funding for projects ranges from a few hundred dollars to $2,000
Submissions are limited to one grant application proposal per faculty member each academic year
Grant applications are accepted every fall
Faculty can showcase successful projects at the "Grants Exposed" reception held each fall in The Wallace Center
For more information, go to www.rit.edu/facultydevelopment.
Topics