Faculty Research Yields Several Books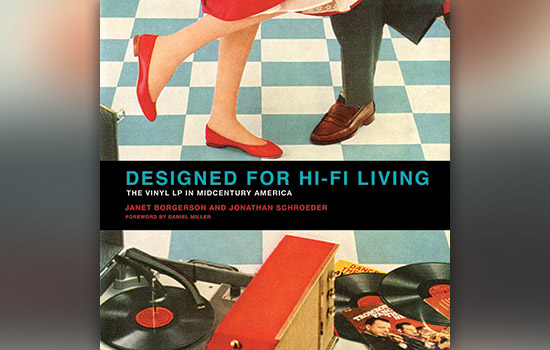 University research doesn't always involve a cleanroom, white coats, or bubbling beakers. In many cases, research is done by digging through dusty documents, interviewing people who have unique stories to tell, or gathering information about historical events. A culmination of such research is putting the findings in a book.
Designed for Hi-Fi Living: The Vinyl LP in Midcentury America, by Janet Borgerson and Jonathan Schroeder.
Long before the internet, iCloud, and podcasts, vinyl records were king. Not only did record albums help define a generation or two with their music, but album covers sometimes suggested ways Americans should live, entertain, and travel while giving a glimpse about what U.S. life is like to the rest of the world.
Designed for Hi-Fi Living: The Vinyl LP in Midcentury America, by Rochester writer Janet Borgerson and Jonathan Schroeder, RIT's William Kern Professor in Communications, looks at the designs of nearly 150 album covers. It's the culmination of more than 20 years of collecting records and more than two years of research involving graphic design, communication, photography, and history.
"Janet and I have been writing about record albums and album cover design for a while," Schroeder said. After a presentation about the subject at the Consumer Culture Theory Conference in Tucson, colleagues asked for more.
"There are albums that have to do with entertaining, having dinners at home, and having a backyard barbecue, some with liner notes and recipes," he said. "Radio show hosts sometimes talked on the record in an entertaining way telling how to have a dinner party. It's almost like what Martha Stewart Living magazine is today."
The albums were sometimes sold at grocery stores and given as housewarming gifts.
He said a number of famous photographers and designers were responsible for album cover designs. Some are even being rereleased "as campy collectibles, as funny, kitschy objects."
Part of Schroeder's research, supported from the William A. Kern Endowment and a book club grant from the College of Liberal Arts, enabled him to travel to the University of Missouri in Kansas City to research a collection of a Capitol Records executive. The company released a series of 400 records from capitals of the world from 1955 to 1970 in an effort to introduce American audiences to foreign music.
It is published by MIT Press.
Agnès Varda between Film, Photography, and Art, by Rebecca DeRoo.
Agnès Varda, a prolific film director, photographer, and artist whose career spans more than six decades, is the subject of a book, Agnès Varda between Film, Photography, and Art, by Rebecca DeRoo, assistant professor in the Department of Performing Arts and Visual Culture.
Varda, viewed as the "mother" of the French New Wave movement of the 1950s and '60s, worked in multiple media, often combining aesthetics and global politics. That formative period in French film continues to be taught in film and visual studies, language, and culture courses, DeRoo said, yet scholars have often struggled to understand how Varda produced groundbreaking film without training in cinema.
"Over the past several years, I've benefited from an unprecedented opportunity to work with Varda," DeRoo said. "I conducted a series of interviews to fill in gaps in the written record, carried out research in her personal archives, and watched her film on location and edit her work in her studio. This research yielded a new history of her work and prompted me to reconsider some of the core narratives of modern cinema."
In contrast to a traditional director study, the book shows how deeply Varda drew inspiration from photography and art history and shows how her revolutionary new cinematic aesthetic emerged from an interdisciplinary dialogue among the arts.
The book, published by the University of California Press, was made possible with grants from the College of Liberal Arts and fellowships from the National Endowment for the Humanities, the American Association of University Women, the American Philosophical Society, and the Paul and Francena Miller Research Fellowship.
Ethics Within Engineering: An Introduction, by Wade Robison.
Engineering students need to think about the ethical aspects of what they do, because engineering any artifact—whether a bridge, software, or something seemingly as simple as an electrical switch—can unintentionally cause harm.
That's the inspiration of Ethics Within Engineering: An Introduction, written by Wade Robison to help engineering students understand the ramifications of their work.
The book, published by Bloomsbury Publishing, features several case studies in which design has resulted in unexpected consequences, including toaster design, the layout of burners and knobs on a stove, and software responsible for a plane crash.
"I hope the students will come away with a realization they're engaged in an ethical enterprise as well as a mechanical one," said Robison, the Ezra A. Hale Professor in Applied Ethics at RIT. "Engineers think of themselves as being in a purely quantitative discipline—they do numbers. My point is that engineering requires enormous imagination, ingenuity, and artistic ability in order to solve an engineering problem in a way that's both elegant and safe."
Robison taught engineering classes for several years at RIT and wanted to make sure undergraduate engineering students realized they were engaging in "an ethical enterprise," not just solving problems.
"Most engineers automatically eschew the decisions that would lead to harmful consequences," Robison said. "But whatever choice you make when designing something will cause harm or benefits."
Robison said he hopes his book will be adopted in engineering classes as supplemental reading.
Radio and the Politics of Sound in Interwar France 1921-1939, by Rebecca Scales.
The period between World War I and World War II may be best remembered for The Great Depression, but it also was an era when the mass media of radio transformed everyday experiences for millions of people.
Rebecca Scales, an associate professor of history at RIT, examined the impact of radio and broadcast sound on French society in her book, Radio and the Politics of Sound in Interwar France, 1921-1939.
Scales first became interested in radio as a graduate student.
"There was significant scholarly literature examining how visual media such as newspapers, film, and photography affected people's interactions with their world," she said. "But very little had been written about sound."
France's first public radio program was broadcast in 1921 from a transmitter on the Eiffel Tower.
By 1930, France was the only European nation with both state-run and commercial radio stations.
"That created a set of debates about what the new medium of radio should do," Scales said. "While we often think of radio as a domestic medium consumed primarily by people in their homes, crowds flocked to loudspeakers on city streets to listen to political speeches, and schoolchildren tuned in to radio lessons from their classrooms."
Many at the time believed they were living through a "sound revolution," she said. "It was hard for them to separate radio from other new sound media, such as the gramophone or the public address system, which were beginning to colonize both public and private spaces."
Listening to radio soon became the subject of fierce intellectual and political debates.
Scales said readers interested in European history, the mass media, and sound studies will appreciate her book, which was made possible through internal and external grants, including from the French Embassy in the United States, the Social Science Research Council, and the Western Society for French History.
The book was published by Cambridge University Press.
Scales received a sabbatical and grants from the National Endowment for the Humanities and the American Philosophical Society to allow her to spend part of 2018 in France to research another book project, Polio's Hidden History: Disability and Epidemic Disease in Twentieth-Century France.
Love Canal: A Toxic History from Colonial Times to the Present, by Richard Newman.
When Richard Newman came to teach environmental history at RIT in 1998, nearly 20 years had passed since 250 homes were bulldozed on a 70-acre parcel in Niagara Falls, N.Y., known as Love Canal, one of the most toxic locations in the country.
Housewives there became activists after hundreds of people developed cancer and other medical ailments before the families were compensated to move away.
"I always thought Love Canal would be a fascinating case study for students," said Newman. So he brought his history classes to visit the area and had activists talk to his students. Newman spent years researching Love Canal and wrote a book, Love Canal: A Toxic History from Colonial Times to the Present, published by Oxford University Press. He received funding from the College of Liberal Arts to research Love Canal collections at Tufts University.
In the 1890s, entrepreneur William Love wanted to create a waterfall to produce hydroelectric power and carved out a piece of land which became Love Canal. After that project was abandoned, Hooker Chemical Co., a leading employer in Niagara Falls, decided the canal would be a perfect place for a chemical dump. Baby boomers eventually built homes at the site, but more than 80 chemicals in the ground—which began to emit foul odors and made rocks smolder—caused medical problems in hundreds of residents.
Resident Lois Gibbs became president of the Love Canal Homeowners Association after two of her children became ill. She was a vocal and effective leader of the activism, which led to President Jimmy Carter designating Love Canal a national emergency and in 1980 the area being designated the first Superfund site.
Mobilizing New York: AIDS, Antipoverty, and Feminist Activism, by Tamar Carroll.
Attending graduate school, Tamar Carroll visited the Smith College Archives in Northampton, Mass., expecting to research and write about feminist Gloria Steinem. But first, the archivist shared papers about a Brooklyn-based feminist group named the National Congress of Neighborhood Women.
"I found it fascinating," said Carroll, now an associate professor of history at RIT. "It was all unexpected, all of these coalitions between groups that were supposed to be at odds with each other. To find white and black women collaborating, to find Catholic women who were supposed to be opposed to feminism was really interesting. I wanted to look at other examples of coalitions between unlikely allies."
The culmination of Carroll's research resulted in Mobilizing New York: AIDS, Antipoverty, and Feminist Activism, a book that focuses on three grassroots movements that empowered people for social change in New York City.
"I look at the ways they were trying to foster participatory democracy, grassroots activists partnering with professionals to achieve better results," Carroll said. "These are stories of ordinary people who changed their world, and I hope readers will be inspired by their examples."
Carroll received a Paul and Francena Miller Research Fellowship from the College of Liberal Arts, giving her a semester off from teaching. She also received funds from the college through the Faculty Development Grant and the Faculty Research Fund Award. Prior to coming to RIT, she received grants from the Lyndon Baines Johnson Foundation, the University of Minnesota, and the University of Michigan. The book is published by the University of North Carolina Press.
Sex Scandals, Gender, and Power in Contemporary American Politics, by Hinda Mandell.
Political scandals—especially involving affairs of the heart—seem to dominate the news when they are discovered.
A book, Sex Scandals, Gender, and Power in Contemporary American Politics, examines how the scandals ruin reputations and the ability for politicians to do their jobs effectively, how they contribute to the mistrust of government, and how they are linked with power and morality.
"I've always been very interested in both the private and political dynamics with political wives whose husbands have had sex scandals," said author Hinda Mandell, an associate professor in the School of Communication in the College of Liberal Arts. "I'm interested in how media covers these events. They take up so much news coverage. I view people as consuming these events."
Former New York Gov. Eliot Spitzer, former South Carolina Gov. Mark Sanford, and former New York Congressman Anthony Weiner are among the men whose scandals are mentioned in the book, which was made possible with College of Liberal Arts Faculty Research Fund Grants and a Paul and Francena Miller Research Fellowship, which provided a semester away from teaching.
The book, published by Praeger, also attempts to make sense of the gender imbalance in the occurrence of political sex scandals—and why there never has been a major sex scandal with a female politician—and what that says about power in government and social expectations more broadly.
Mandell's research included analysis of news articles, interviews with everyday people to see how they reacted to specific scandals, and interviews with two dozen members of the New York State Assembly, which has seen several sex scandals in recent years.
Other Books
Find more at the RIT Press: www.rit.edu/press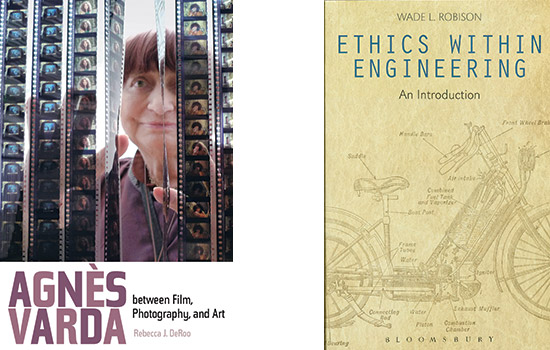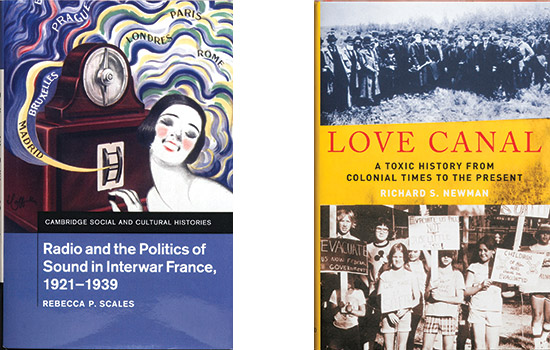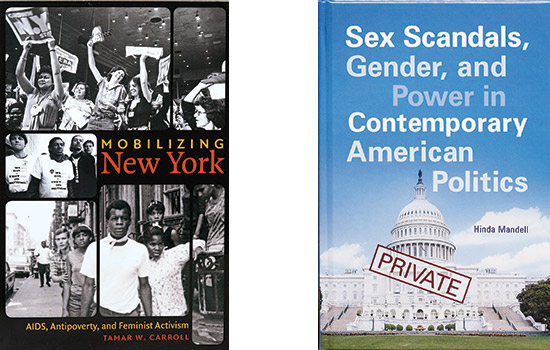 Topics