Farid Barquet elected Student Government president
International student encourages more student involvement on and off campus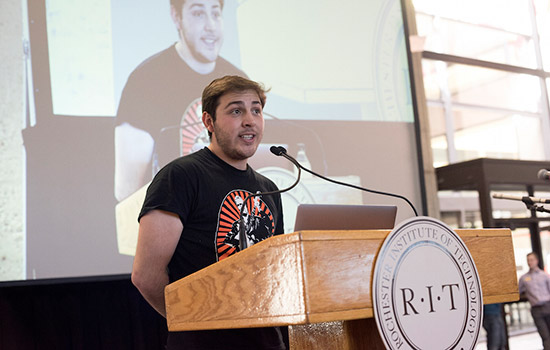 A. Sue Weisler
Farid Barquet, who is finishing his third year as a biomedical sciences and biotechnology double major, has been elected Rochester Institute of Technology's Student Government president for the 2017-2018 academic year.
His term begins June 1. Student Government vice president will be Bobby Moakley, a second-year environmental science and global studies double major from Boston.
Barquet, from Mexico City, said he didn't know anything about RIT until he applied.
"I didn't know much about schools in the U.S., but I knew I wanted to major in biotechnology," he said. "So in my search, I Googled 'schools with biotechnology programs' and I found RIT was the first school to offer biotech as a major, so I thought that was really cool."
He applied to other schools, but his visit to RIT in May 2014 convinced him he wanted to be in Rochester.
"The campus was amazing and I just felt welcomed," he said. "It's a cliché, but I just felt like I fit in here."
Barquet is currently director of programming for Student Government. He's also involved with orientation, admissions, served as a peer adviser for first-year students in the Academic Support Center and is a member of the Sigma Chi fraternity.
He enjoys theater and was a lead in an RIT Players production of Urinetown in his first year.
"I really like music, singing and dancing, and playing the piano," he said.
He finds it easy to express himself. His native language is Spanish, and he learned English when he was 4 years old and French when he was in middle school. He took Italian classes at RIT and has an immersion in American Sign Language.
"I figured I would be interacting with a lot of deaf and hard-of-hearing students in my four or five years at RIT, so I wanted to be able to effectively communicate with them."
Even though he'll be representing more than 18,000 RIT students as Student Government president, he wants them to know everyone will have a voice.
"I'll have an open-door policy. I've always been very approachable," he said. "People should never feel uncomfortable approaching me or anyone else in Student Government."
Barquet's new responsibility won't mean he'll be taking time from his studies. He's planning to take 18 credit hours next semester but has selected a schedule to allow plenty of free time during the day to attend Student Government meetings and meet with people.
"One of the things I love about RIT is how student-centric the school is," he said. "My friends who go to different colleges always tell me that their administration doesn't listen to students much, but here at RIT we are really involved in all the decision-making processes. I think this is largely due to the work done by previous Student Government administrations." He also said RIT President Bill Destler "has always been very focused on students' needs. RIT really provides an environment in which students get to make a difference and have a large impact on campus."
He said his focus will be improving the community.
"As Student Government president next year, one of my main areas of focus will be to bring RIT and the Rochester community together," Barquet said. "I believe we've had a pretty good life on campus for the past few years, but students still don't get to explore Rochester enough. I want to work closely with student governments in nearby schools to form a stronger Rochester student community as opposed to having one school versus the other. I want to work with local businesses so they can become more accessible and more student friendly, and all students can feel comfortable going out into the Rochester community."
He will work closely with Moakley, who is coordinator of Into the ROC, a program initiated by RIT's Center for Leadership & Civic Engagement last fall to enable students to experience civil and community engagement and opportunities for cultural engagement. They have visited museums and parks locally and as far as the Finger Lakes and Corning Museum of Glass and have volunteered at festivals and for food cupboards.
"Rochester is a really beautiful place," Barquet said. "People think it's cold and gray and snowy, but there are so many things to do. There are so many great eating locations and hiking areas. I want to make sure students go out, not just spend four years on campus."