September 16, 2013
by Marcia Morphy
Film critic Jack Garner takes you to the movies
'From My Seat on the Aisle' includes interviews with Hollywood celebrities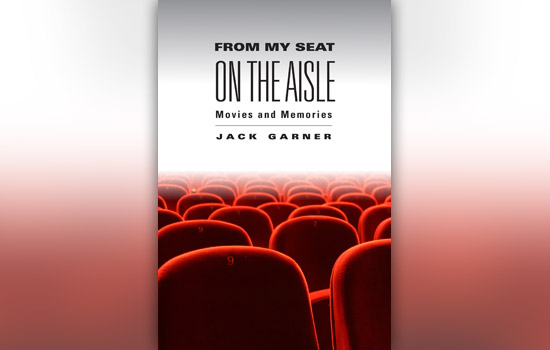 To many an actor like me, he has been that breath of fresh air in the midst of movie critics whose job description surely include words like "cut," "stab," and "savage." Substitute the words "love," "delight," and "discover," and you start to know Jack.
—Robert Forster
Watching a movie and eating a bag of popcorn in a darkened theater is Jack Garner's livelihood.
Garner is now reviewing the "big picture" of his 30-year span as the nationally syndicated film critic for Gannett News Service in his book From My Seat on the Aisle: Movies and Memories—an insightful, anecdotal and humorous "best-of" compilation of selected essays and reviews.
The book also includes in-depth interviews with many Hollywood celebrities including Academy-Award winners Audrey Hepburn, Clint Eastwood, Meryl Streep, Jimmy Stewart, Woody Allen and Philip Seymour Hoffman.
Garner, film critic and entertainment writer for the Rochester Democrat and Chronicle from 1977 to 2007, was appointed chief film critic for Gannett in 1987. Over his career, Garner typically reviewed three films per week, which equates to 150 per year—roughly 4,600 films in total.
"I used to say, 'People pay me to go to the movies,'" says Garner. "I wasn't joking. For a lifelong movie lover, the job was absolute heaven. Not only did I see every movie of any artistic or commercial interest, but I also often had chances to talk with people who appeared in the films or who made the movies. This only enhanced my knowledge and appreciation for the films I was watching, and I hope it had the same effect on my readers."
The following are a few Garner "takes" From My Seat on the Aisle:
Psycho: That was the film that turned horror into art—and scared the bejeezus out of me like no film before or since.
If someone says, "summer movie," I think of only one film: Steven Spielberg's Jaws, from the summer of 1975.
Fred Astaire: Filmgoers knew Fred Astaire had been dancing on air from the start. He only touched ground to show his humanity.
Katharine Hepburn: She had the strength of character to go toe-to-toe with some of the most robust actors of her time, from Cary Grant and Humphrey Bogart to Peter O'Toole and John Wayne.
Garner also includes the George Eastman House on his A-list, which "is a blessing for any film buff and film commentator"—to live within a few blocks of one of the world's renowned film archives located in the mansion of the late George Eastman.
In retrospect, Garner says a film must have a life. "It should seem organic and alive and remain alive in conversation and in your mind after you leave the theater or turn off the DVD. A creative work must move you. It must stir emotions of love or hate or fear or joy or sadness or fulfillment. A good film deserves a reaction."
Now retired, Garner continues to write weekly film reviews as well as jazz and classic film critiques. Garner is a recipient of the prestigious George Eastman Medal of Honor and contributor to the Eastman House academic journal, Image. He is a member of the Broadcast Film Critics Association, the Eastman House Council, and recipient of the 2013 Impact Award from the Rochester Media Association.
From My Seat on the Aisle: Movies and Memories is published by RIT Press, the scholarly publishing enterprise at Rochester Institute of Technology. The book is available in softcover for $19.99 at the RIT Press website or by calling RIT Press at 585-475-6766.