Film featuring alumnus Brian Nice available online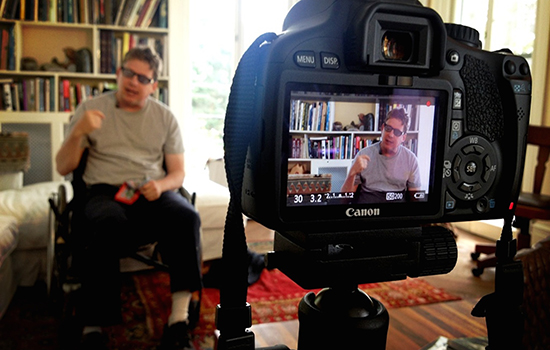 Adam Hall
A documentary film following alumnus and brain injury survivor Brian Nice as he traveled across the United States to photograph the American landscape is now available.
Nice '84 (photography) was a renowned photographer shooting fashion for magazines such as Elle, Madame Figaro and Cosmopolitan and ad campaigns for L'Oreal, Oil of Olay and Givenchy when his fast-paced world ground to a halt on Aug. 18, 2009.
He was working in Manhattan on a photo shoot when he suddenly became violently ill. He was rushed to the hospital, where doctors discovered that a birth defect, a malformation on his brain stem, was causing devastating internal bleeding that quickly robbed him of many of his basic motor skills.
Since then he's had to relearn the simplest things—how to breathe, how to swallow, how to talk.
When his health insurance no longer covered physical therapy sessions, he set out in the fall of 2013 on a cross-country road trip to test his physical and emotional limits. The trip was similar to one he ran in 1979 with his RIT cross country and track teammates and their coach, Peter Todd.
Along the way, Nice photographed the American landscape to show that people with traumatic brain injuries can still do what they love.
The documentary was directed and shot by filmmaker Adam Hall and produced by Hall's wife, Erin.
Hall, whose day job is editing the cooking competition show Beat Bobby Flay for the Food Network, said he and his wife worked nights and weekends over the course of 2014 editing down about 70 hours of footage into an hour film.
In 2015, Offset: Seeing Beauty Through a Brain Injury was featured in the Bronx International Film Festival, the Alexandria Film Festival and Film Fest 52 as part of the Connecticut Film Festival. It also was acknowledged by the San Francisco Film Awards and the Depth of Field International Film Festival.
This summer, the film was made available through online streaming and on DVD. It was also distributed to universities, libraries and hospitals through Filmakers Library.
"I am thrilled with how the film turned out," Hall said. "But more that, I am overwhelmed by the tremendous feedback we have received from both the film community and more importantly the brain injury community. Offset continues to be shown at brain injury recovery centers around the country, to survivors, their loved ones, therapists and caregivers."
Hall said Nice continues his daily therapy. He also continues his positive outlook on life that made the trip and film possible. His photography from the trip was made into a coffee table book.
All of the projects have been getting praise.
"This is a beautiful story you developed for the screen, and portrays wonderful possibilities for the survivor and family after brain injury —a subject that contributes positively to the work that we all do," said Amy Gaier, program director at the Brian Injury Association of Kansas and Greater Kansas City.
Said Rod Davidson of the Oklahoma City Brain Injury Support Group: "Nobody thinks about how in the blink of an eye a brain injury can change your life and the lives of those closest to you forever. Thank you for making the video with Brian."
Nice was featured in RIT: The University Magazine in 2013.