First class of chemical engineers graduates
College also increased its overall diversity representation, retention and graduation rates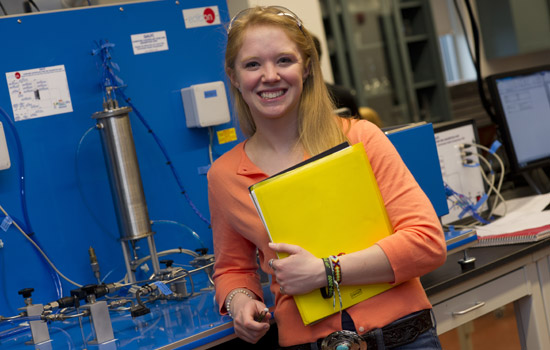 A. Sue Weisler
As Rochester Institute of Technology celebrates its 2013 commencement ceremony this May, its engineering college will confer degrees on its first class of chemical engineers. It is only one of several milestones RIT's Kate Gleason College of Engineering has achieved in the past several years, including a rise in overall student enrollment and increased retention and graduation rates of its female and underrepresented minority students.
The chemical engineering degree program, approved by the New York State Department of Education in 2008, is one of the fastest growing programs in the engineering college. Seventeen students will be part of the first class of graduates, says Steven Weinstein, department head of chemical engineering. Next year's class is nearly double that amount, and the class of freshman admitted in fall 2012 totals 57.
Students from the program are being prepared to enter fields such as pharmaceuticals, alternative energy systems, biomedical materials and therapies, and the environmental sector.
"Over the past 40 years, chemical engineering graduates have become increasingly more sophisticated in their ability to integrate their knowledge of local phenomena into process designs," says Weinstein. "Thus, it makes sense for the recent research advances associated with nanoscale phenomena to be incorporated into the core of RIT's forward-looking curriculum for undergraduate chemical engineering education."
The engineering college has succeeded over the past decade in its efforts to retain students. By building a strong sense of community and being focused on putting students first, the first- to second-year retention rate of its students now exceeds 93 percent. The greatest gains have been made with under-represented minorities and women. Retention of African American, Latino American and Native American students has risen by 16 percentage points over the past five years; and more than 90 percent of the women who start in the college do graduate from RIT.
One of those young women is Shannon McCormick, a chemical engineer, who will be the engineering college's delegate at RIT's Commencement Ceremony. McCormick completed a research project within the college and had multiple co-op experiences at Anheuser-Busch. In June, she begins work full-time for the company as a group manager in its brewing department, focusing on quality assurance and operations.
"The chemical engineering program is continuing on in the RIT tradition of building on its broad spectrum of strong corporate relationships, which provide its students with excellent co-op experiences and its faculty and students with sponsorship and inspiration for applied research that can make a real difference in society," says Harvey Palmer, dean of the Kate Gleason College of Engineering. "The end results are graduates who are extremely marketable, with skills that are among the most sought-after by industry."
The college was recently ranked 27th among the world's best engineering schools by Business Insider magazine.
"When corporations are asked to rank engineering programs based upon where they go to seek top talent, RIT really shines," says Palmer. "At our fall and spring job fairs, we have to turn companies away because of a lack of room to accommodate them." Last year in its annual workforce study, Aviation Week magazine ranked RIT third in the nation among schools that companies prefer when recruiting and hiring in critical skill areas for the nation's aerospace and defense industries.
In 2012, there were 1,784 unique co-operative education placements of the engineering college's students across 529 different companies in the U.S. and abroad, including Harris Corp., Toyota, Intel and Sikorsky Aircraft Corp.
"Our winning strategy is built upon teamwork, community and establishing a culture of mutual support for our students," Palmer says. "Without this single-minded commitment to student success by our faculty and staff, we would not have achieved these goals."
Note: RIT's Commencement takes place at 2 p.m. on Friday, May 17, and the engineering college's ceremony is scheduled for 3 p.m. on Saturday, May 18. Both events take place at RIT Gordon Field House and Activities Center.