Five companies graduate from Venture Creations
Companies grow, produce jobs with guidance from RIT faculty, staff and students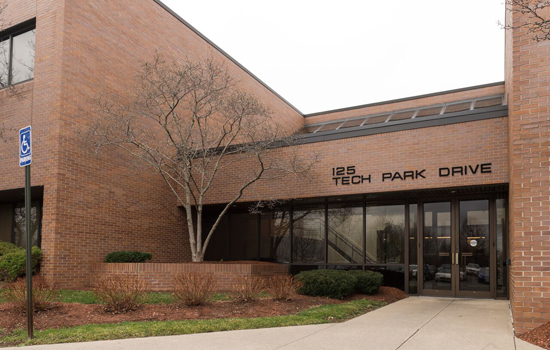 Five companies in Rochester Institute of Technology's Venture Creations business incubator were graduated in a joint celebration Tuesday that included a talk from Congresswoman Louise Slaughter.
Venture Creations Director Bill Jones said each company meets the criteria for graduation. "They have a good management team, they have acquired funding to last for at least six months and they have a product available for sale," he said.
There are currently 22 companies in Venture Creations, which has a two-story building on Tech Park Drive, just south of the main RIT campus. Since 2003, Venture Creations has graduated 26 companies, created more than 400 new jobs and helped its member companies secure more than $36 million in investments.
The graduating companies are:
All Access LLC: Created an app that calls up businesses the way consumers prefer, from logos, location and more.
BlackBox Biometrics: Manufactures sensors worn by military and law enforcement personnel that measure blast forces to determine if medical attention is needed for brain concussion avoidance.
ClearCove Systems: Created a revolutionary way to treat wastewater that reduces municipal costs and creates potential revenue by using biomass to produce energy.
Darkwind Media: Creates video games and enables existing games to be played on other platforms.
ThirtySix Software: Streamlines office documents, enabling users of various programs to use the same document.
"RIT congratulates these successful companies on their graduation from Venture Creations," said RIT President Bill Destler. "Their array of products and services reflects the variety of disciplines taught at RIT. Companies utilizing our students for permanent jobs or co-ops offer a win-win situation—companies receive the skills offered by our talented pool of students, and the students benefit from real-world experience not found in a classroom. We wish these graduating companies much success in the future."
Venture Creations opened in 2003 to create high-growth companies in Western New York, provide experiential learning in entrepreneurship to RIT students and commercialize RIT innovations and intellectual property, focusing on opportunities that leverage RIT's core technical competencies. In 2009, it was selected as one of six Clean Energy Incubators recognized by the state.
Slaughter, who spoke during the ceremony at RIT's University Gallery, called Venture Creations "a shining example of how a successful public-private partnership can nurture small businesses, create jobs and grow the economy.
"I thank Venture Creations for giving entrepreneurs the environment, the guidance and the access to investors needed to grow their start-up businesses into profitable companies," Slaughter said. "I am especially glad to see two companies I have worked with in the past— BlackBox Biometrics and Darkwind Media—graduating today and I look forward to supporting the next class of small businesses that look to Venture Creations for an opportunity to grow here in Rochester."
The founders of the businesses talked about what they have gained from their time in RIT's business incubator.
"Venture Creations has been a platform that has allowed us to successfully launch and grow our company," said Greg Westbrook, an RIT alumnus who co-founded ClearCove Systems with his former roommate, Terry Wright, both 1981 civil engineering technology graduates. "We have benefitted from networking, business acumen, technical support and a talented workforce nearby at RIT we can count on."
Topics