Former president of RIT Dubai honored
Former Libyan prime minister and president of RIT Dubai recognized for his impact on optics, photonics and educational communities locally and abroad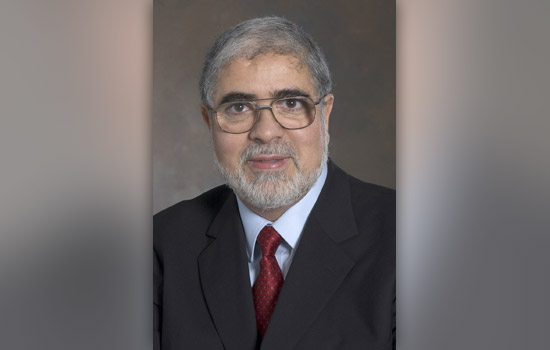 Mustafa Abushagur, professor of microsystems engineering and electrical and microelectronic engineering in the Kate Gleason College of Engineering at Rochester Institute of Technology, was recently awarded the prestigious Robert E. Hopkins Leadership Award from the Optical Society of America. As one of the society's highest awards, Abushagur, who most recently served as Libya's first prime minister and was the founding president of RIT Dubai, was recognized for his "leadership in education and entrepreneurship, which led to the establishment of important programs, institutions, and companies devoted to developing optics in the United States, Middle East and North Africa".
The Hopkins Award annually recognizes an individual or group that has had a significant impact on the global optics and photonics community, or has influenced society as a whole stemming from non-research-oriented activities. Abushagur has had a distinguished career in academia and industry as well as international political affairs.
An expert in micro-optical systems and nano-photonics, Abushagur joined RIT in 2002 to shape, launch and lead RIT's Ph.D. program in microsystems engineering. In 2008, he became the founding president of RIT Dubai, one of the university's three international campuses.
"Mustafa's success as a leader stems from his exceptional ability to recognize an opportunity, seize it and provide the guidance needed to transform the opportunity into something of significant value," says Harvey Palmer, dean of the Kate Gleason College of Engineering. "Furthermore, he inspires confidence through his thoughtfulness, directness and honesty; winning the loyalty of his colleagues with his caring, selfless approach to everything that he does."
In November 2011, Abushagur returned to his homeland after more than 32 years in exile to be appointed deputy prime minister of Libya. As a Libyan refugee on Libya's "Most Wanted" list because of his active opposition to the Moammar Gadhafi regime, Abushagur served as part of the country's new government after the regime was toppled and Gadhafi was killed. A year later he was elected prime minister, although for a short time.
Abushagur came to RIT from the University of Alabama at Huntsville, where he was professor of electrical and computer engineering and professor of optical science and engineering. He also led development of the university's first-in-the-nation optical engineering bachelor's degree program.
As an entrepreneur, he founded two start-ups: LiquidLight Inc., a developer and manufacturer of optical network systems for the metro-access market, and Photronix, a maker of fiber-optic components based in Malaysia. He has consulted for the U.S. Army Missile Command, NASA, Boeing Co. and other firms, has published numerous papers and holds several patents.
Although currently engaged in the growing democratic activities within Libya, Abushagur maintains his residency in Brighton, N.Y.