FreezeFest celebrates snow and cold Jan. 31-Feb. 3
Snowboarding, escape rooms, food trucks and ice carving part of celebration of winter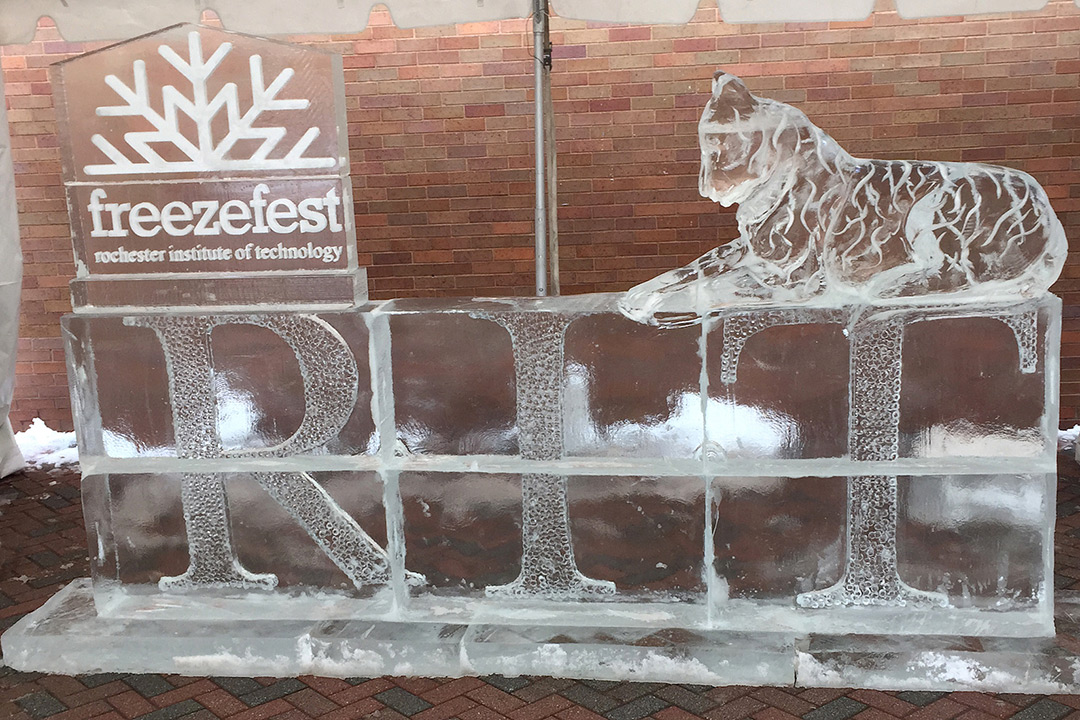 A. Sue Weisler
A snowboarding and ski course, escape rooms, grocery bingo, hockey games and Saturday Night Live cast member Mikey Day are some of the more than a dozen events and activities planned for the 10th annual Rochester Institute of Technology FreezeFest for students, faculty and staff to celebrate Rochester's winter season.
The festival, Jan. 31 through Feb. 3, sponsored by RIT's Division of Student Affairs in conjunction with the College Activities Board, is one of the largest events on campus and the largest in the winter season.
 "It's a great way to celebrate the lovely winter season we receive each year and have some fun," said Kalie Lazarou, a fifth-year industrial and systems engineering major from Wheatfield, N.Y., and the director for the RIT College Activities Board.
Comedian Day, who is appearing at the Gordon Field House and Activities Center on Feb. 2, was hired as an SNL writer in 2013 and joined the cast in 2016.
Unless otherwise indicated, all FreezeFest events are free. They include:
Thursday, Jan. 31:
9:30 p.m. Movie, Fantastic Beasts: The Crimes of Grindelwald, Ingle Auditorium.
Friday, Feb. 1:
9 a.m.-4 p.m. Ice Sculpture Carving, outside the Student Alumni Union.
10 a.m.-2 p.m. Festivities, Student Alumni Union lobby. Free snow globe photo booth, a do-it-yourself craft activity, caricature artist, cotton candy, popcorn, candy bars and snacks.
1-4 p.m. Winter Hangout, Global Village Plaza. Featuring do-it-yourself curling, music from WITR, hot chocolate and s'mores.
4-10 p.m. Men's and women's track and field, Tiger Invitational, Gordon Field House and Activities Center.
7:05 p.m. Men's hockey, RIT vs. Arizona State University, Gene Polisseni Center. Tickets available at RIT box office.
9 p.m. Grocery Bingo, free games, chance to win prizes including groceries, Al Davis Room, Student Alumni Union.
Saturday, Feb. 2:
9 a.m.-4:30 p.m. FreezeFest Rail Jam 2019, RIT Freestyle Snowboard Team hosts this competitive ski and snowboard event. Contestants will be judged on their tricks down a pre-built course on the hill near the Red Barn.
Noon- 3 p.m. Ski Lodge. Featuring Build a Buddy, escape rooms, a hot chocolate bar, photo green screen and games, SAU Lobby, Davis Room and Fireside Lounge.
4-6:30 p.m. Food trucks. There will be 300 free food tickets given to students for three local food trucks. After that, food can be purchased individually, Duda Plaza.
7:05 p.m. RIT Men's Hockey vs. Arizona State University, Polisseni Center. Tickets available at RIT box office.
9 p.m. Comedian Mikey Day, Gordon Field House and Activities Center. Tickets: $5 for students; $10 for faculty, staff and alumni, and $15 for the general public. Tickets are available at the RIT box office.
Sunday, Feb. 3:
6:30 p.m. Big Football Game. Watch the Super Bowl (and the commercials) in the Gordon Field House with huge screens, pizza and chicken wings.