Friendship turns to love three decades later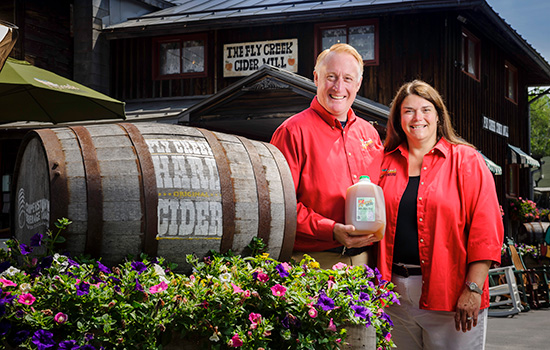 Paul Schechtman '81 (printing) and Pam Evans Schechtman '81 (printing) became good friends at RIT.
They shared rides home to the Cleveland area and took classes together. But they were never romantically involved.
Pam attended Paul's wedding to his high school girlfriend after graduation in 1981, and Paul attended Pam's wedding in 1987. Then life got busy and they lost touch. Until 2011.
That's when Pam joined LinkedIn and started searching for old friends. She found Paul, who happened to live 20 minutes away. They decided to meet for dinner.
"She didn't know I was divorced," Paul said. "I didn't know she was a widow. At that point we felt like we were 22 again and still at RIT."
The Schechtmans celebrated their third wedding anniversary on July 28 and both said they couldn't be happier.
Paul and Pam would never had met if Paul hadn't transferred from the University of Cincinnati to RIT in the fall of 1978 and hadn't been assigned a dorm room with two other guys. He didn't want to live in a triple, so he spent his first year in Rustic Village Apartments. Living off-campus was easier with a car, so he purchased one.
Since he had transportation, Paul thought he would offer a ride home at Thanksgiving to other students from the Cleveland area. He posted a sign in the Student Alumni Union.
"She pulled the tab and called me up," Paul said. "That's how we started knowing each other because I would give her rides home."
Although they had a lot in common, including the same major, they stayed friends. "I knew he was off the market, unavailable," said Pam because Paul was dating his high school sweetheart. "So we did things together as friends."
After graduation, Paul worked in the printing business for 15 years for various companies in New York, Philadelphia and Cleveland, then in the transportation business in Denver. He moved back to Cleveland in 2010.
Pam stayed in the Cleveland area, working for her father's printing company for seven years after graduation and then became a stay-at-home mom. She returned to the workforce in the school cafeteria so she could have the same schedule as her son.
They realized quickly that even three decades later that they still had a lot in common. And they love to share their story, especially during Brick City Homecoming & Family Weekend, which they regularly attend.
"Any person that stops by, Pam tells the story," Paul said.
"We just get along so well," Pam added. "Can you tell we are really happy?"
About Tiger Love
To suggest one of RIT's 4,600-plus alumni couples to feature, email us at umag@rit.edu.
Topics