Gene Polisseni Center: Fast Facts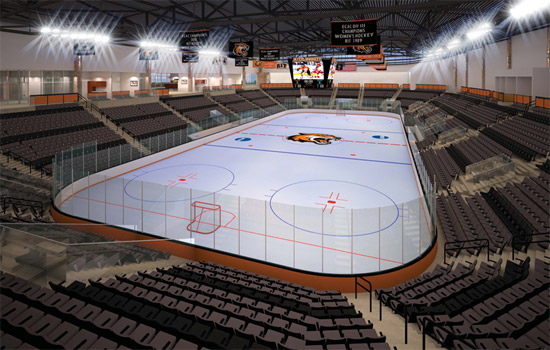 BBB Architects
Square footage: The Gene Polisseni Center will be approximately 105,000 square feet, which is about three times the size of Ritter Arena.
Seats: Total capacity for hockey games is 4,500. This includes approximately 4,150 seats, plus standing room for about 350.
Suites: Four suites, with seating capacity of 12 to 16 each. In addition, the arena will have 400 to 600 club seats. All suites and club seats will include access to the high-end club lounge.
Ice Size: 85 feet by 200 feet (NHL size)
Concession areas: There will be a variety of locations and menu options, including some higher-end options.
Handicap accessible: Available in all seating areas (suites, club seats, Corner Crew, and home and visitor's sides).
Scoreboard: Trans-Lux Corp. and RIT alumnus J.M. Allain '03 (multidisciplinary studies) issued a $1 million commitment to the campaign. Allain, Trans-Lux president and CEO, will donate a center-hung electronic scoreboard for the arena. The company is a leading supplier of programmable electronic information displays.
RIT Athletics Hall of Fame: The arena will feature a bright and spacious lobby focused on RIT spirit. The Hall of Fame will be incorporated into the main atrium and will feature beautiful and high-tech displays highlighting RIT's Athletics Hall of Fame inductees and our proud athletics history.
Corner Crew: Corner Crew seating areas will be much expanded and will keep the Crew at the same end as the opposing goalie for two periods. This space will keep the Pep Band adjacent to the Corner Crew and affords plenty of room for expanding the Corner Crew section.
Miscellaneous:
• While primarily designed for hockey, the Gene Polisseni Center will serve as a multipurpose venue.
• The team benches will remain on opposite sides of the ice, as in Ritter Arena.
• The Polisseni Center will feature multiple entry points for fans, both pedestrian and those driving onto campus.
• The arena bowl will replicate the steep pitch and low ceiling of Ritter Arena, in order to recreate the intimacy and intensity of Ritter—we intend to keep our fans on top of the action.