Gene Polisseni Center opens with a roar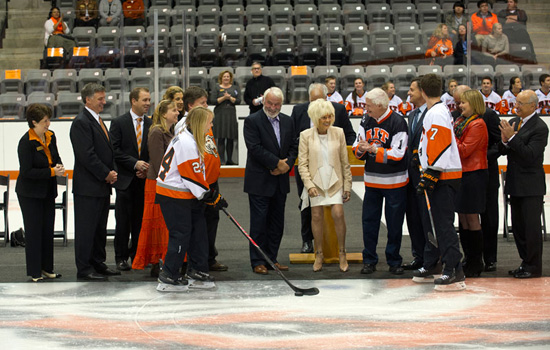 A. Sue Weisler
Wanda Polisseni didn't want to see RIT's new state-of-the-art arena until it was complete so she could get the full experience on Thursday.
"I am blown away," said Polisseni, the widow of Gene Polisseni, the arena's namesake. "This is a dream come true for my husband because of his love of hockey and RIT."
RIT alumni, students, faculty, staff and the community also got their first look at the Tigers' new $38 million den Thursday during a dedication ceremony. And the reviews of both the facility and the teams who now call the arena home were gushing.
"I could talk today about RIT's march to national hockey prominence and decades of great competition," said RIT President Bill Destler before the first puck was dropped. "But there's a different story I want you to hear about how these teams have built RIT pride and spirit around the world."
Popularity of both the men's and women's hockey teams has skyrocketed in recent years, resulting from the men's team's historic run to the 2010 NCAA Frozen Four and the women's team winning the 2012 NCAA Division III Championship.
As interest rose, RIT quickly outgrew Frank Ritter Memorial Ice Arena, the Tigers' home for the last 46 years. A lack of amenities at Ritter and limited seating made hockey night a test of patience and endurance. Spectators would cram into the building sometimes standing three-deep behind the railing. Those with seats often had to arrive two hours before game time to claim them.
The Polisseni Center, which sits on the south side of the Student Alumni Union, boasts 4,000 seats and, with standing room, has a total capacity of 4,300 complete with a student/pep band/Corner Crew section. Other seating options include reserved chair-back seating and a special club section with buffet meals and cash bar. Six corporate suites are available—four on the club level, one on the media level and a unique bunker suite at ice level.
The naming of the facility resulted from a $4.5 million partnership between the Polisseni Foundation and RIT trustee B. Thomas Golisano, founder and chairman of Paychex Inc. and lifelong Polisseni friend.
Gene Polisseni served as vice president of marketing at Paychex until he died in 2001. Most of his professional life was devoted to helping build the payroll services company, but hockey always remained his personal outlet. He organized youth and adult amateur leagues throughout the area and he regularly attended professional hockey games.
Golisano on Thursday called Gene Polisseni the soul of Paychex. "He instilled the moral integrity and character into our company." He added that the arena is a great tribute to his friend.
Thursday's dedication was part pep rally, part carnival. Fans and youth hockey players had the opportunity to skate with players, win Tiger swag playing carnival games and tour the arena.
Kristen Tompkins '97 (social work) was impressed. "It's beautiful," she said, "state of the art."
Senior forward Marissa Maugeri, a psychology major from Ajax, Ontario, Canada, was beaming with excitement.
"It's crazy to finally be here after seeing it being built for so long. Now we are even more excited to start playing our games here," she said. "We are thankful to play here and grateful for everyone involved who made this a reality."
Topping that list are Steve Schultz '89 (computer science) and Vicki Schultz '92, '94, '99 (photography, business administration, MBA), who kicked off the fundraising for the arena in 2010 with a gift of $1 million.
Steve Schultz, who as a student pulled together multiple cheering sections to lead the Corner Crew, visited the arena every two weeks to watch it being built.
He said he likes that the new arena has the closeness of Ritter with the amenities Ritter was lacking.
The Polisseni Center is among the few new arenas without a center-ice scoreboard. Instead, two 23-foot-by-13-foot high-definition video boards—a gift from J.M. Allain '03 (multidisciplinary studies), who is president and CEO of Trans-Lux Corp., a leading supplier of programmable electronic information displays—are located on each end of the ice, complete with full captioning.
The video boards will see game action on Sept. 29 when the women's hockey team plays its first exhibition game, followed by the first regular-season game Oct. 3. The men's exhibition game is Oct. 4 with its season opening Oct. 10.
"I can't wait to see what a sellout crowd will look and sound like here compared to Ritter," said sophomore forward Garrett McMullen, a packaging science major from Churchville, N.Y. "With the Corner Crew and student section, it's going to be a great place to play. It's great to see everyone come together to support a top-notch facility."
Includes reporting by Executive Sports Information Director Joe Venniro and Derrick Hunt '15.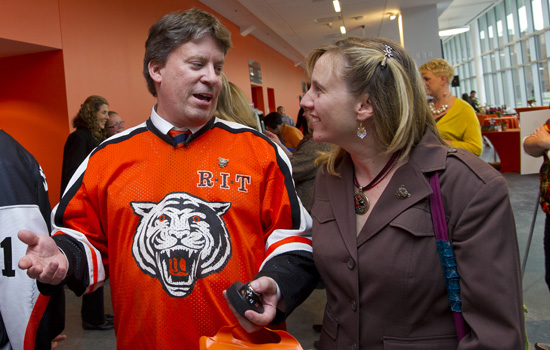 A. Sue Weisler
Topics