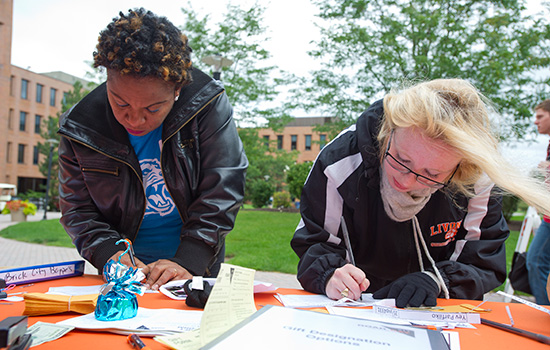 A. Sue Weisler
ROAR Day at RIT is set to kick off this Wednesday, Oct. 5, for the 11th straight year.
ROAR Day is a 24-hour window during which students, faculty and staff are encouraged to give back to their favorite area of RIT. Last year's event brought in over $123,000 in direct support to RIT programs with more than 2,400 students, faculty and alumni donors.
Brenna Mangano Hynes, the associate director of The Fund for RIT, is the organizer of the event. She said that ROAR Day provides a unique opportunity to teach and encourage philanthropy on campus.
"ROAR Day started as an effort to educate the student body on the importance of being philanthropic and giving back to RIT specifically," said Mangano Hynes. "Without the help of private support, the full RIT experience wouldn't be possible."
What makes ROAR Day unique is the incentive to give back on that day. For one day only, every student, faculty and staff gift between $5 and $40 (up to $40,000 total) will be matched by private donors. Gifts over $40 will receive a $40 match.
"It's not the dollar amount that's important," said Mangano Hynes. "If you can afford a cup of coffee, you can give to an area of RIT that you love. There are no limitations to giving back."
While RIT tuition covers approximately 50 percent of the cost of operating the university, contributions from alumni, parents and friends account for the rest.
Amber Webb, associate director of marketing and communications for Development and Alumni Relations, said that what most students don't realize is that giving participation rates are one of the key factors that play into national college rankings. The national average of alumni giving is around 17 percent. At RIT, the average is only 7 percent.
"Nationally, universities are seeing participation rates steadily declining," said Mangano Hynes. "Most people don't realize that giving back, even making a small contribution, helps to increase the value of their own degree. Imagine the opportunities that would exist if we raised our participation to meet the national average."
Mangano Hynes went on to say that gifts can be made to RIT's areas of greatest need, or can be directed to a club, organization, scholarship or academic department of your choice.
"The match money follows the designation of your gift, so it's a great way for people to support an area of RIT that they're passionate about," said Mangano Hynes. "This year, athletics is hosting the ROAR for Athletics Challenge, and is putting prize money up so that the sports team with the highest number of donors will get additional funding. It's a great way to encourage participation."
Gifts can be made at tables around campus from 10 a.m. until 3 p.m. Oct. 5 and will be accepted in the form of cash, credit, Tiger Bucks and payroll deduction. Contributions can also be made online between 12 a.m. and 11:59 p.m. on the same day.