Get the scoop on RIT-themed ice cream
Festival participants can sample student-creations and vote on the best tasting delicacies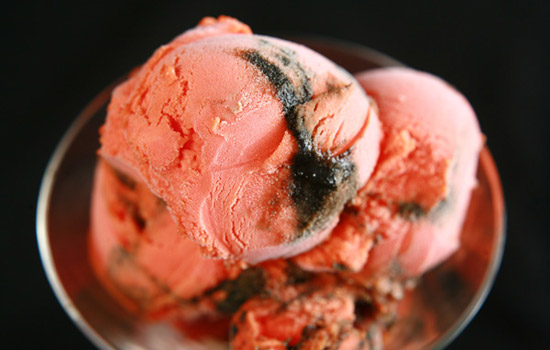 Local favorite Abbott's Frozen Custard and RIT hospitality program "foodies" created two RIT-themed ice cream flavors and will unveil the delicacies at Imagine RIT on May 3.
Students worked over the spring semester to craft a frozen treat that could eventually be featured on the menu at the new Gene Polisseni Center ice arena this fall. But until the arena is completed, participants at Imagine will be the first to sample and vote on the two new flavors.
Follow the paw prints and tiger tracks from across campus to the students' exhibit booth located in RIT Central, outside Eastman Hall and Simone Circle, during the festival.
"We just threw out a lot of ideas for the exhibit, looked for local companies to work with and contacted Abbott's," said Jennifer DiGaetano, lecturer in RIT's College of Applied Science and Technology. "In less than a day they agreed and wanted to participate with us."
The student team of Zachary Trombley, Stefan Woerner, Kathryn Prinzing, Victoria Eder and Victoria Farrell worked with Abbott's on several options before selecting RIT-inspired flavors of butterscotch for one option and maple for another.
On Friday evening, May 2, the night before the festival, the team will head to Abbott's in Hilton, where staff there will blend and package the final two selections. All the ingredients will be disclosed at Imagine.
In the meantime, the team is putting the finishing touches on a website that festival participants can access to vote for their favorite ice cream flavor and provide feedback to the student team.
DiGaetano's students in the Meeting and Events class developed several different activities, all intended to help students understand the process of planning and managing successful public and private events. Over the semester, other student teams coordinated an up-cycling event, Pie-in-the-Face fundraiser with RIT Athletics and a Dive-a-thon.