A global community at home in Henrietta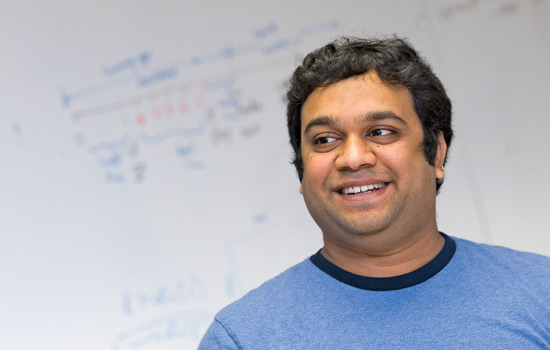 A. Sue Weisler
With campuses in Croatia, Dubai and Kosovo and other international partnerships, RIT has a prominent global footprint. But it's clear from one look around the home campus that the one with the most international flavor is right here in Henrietta.
This year, 1,831 students—nearly 10 percent of the student body—are international. They hail from 109 countries, from Afghanistan to Zimbabwe. Most, nearly 600, are from India, followed by China, Saudi Arabia and the Dominican Republic. While international students study abroad primarily for the education—the U.S. is recognized as the world leader in quality higher education—most absorb much more. For RIT students, that includes winter, Wegmans and watching hockey.
Came to RIT to study engineering…
Srinivas Sridharan, a computing and information sciences Ph.D. student originally from Chennai, in southern India, came to RIT in 2009, after completing undergraduate studies in India, to study electrical engineering.
"Students want to come to the U.S. because it has become a tradition," Sridharan says, citing extended family members and friends who preceded him to America.
But despite having cousins and other relatives in the U.S., acclimating to life in America wasn't always easy. The most challenging adjustments initially, Sridharan says, surrounded food choices, driving rules (switching to driving on the right-hand side of the road, for example) and day-to-day tasks (including getting accustomed to shopping in big-box stores such as Wegmans).
"I would not say it's 'culture shock,'" he says, "but there are always cultural adjustments that you have to make. I'm still learning every day."
And Rochester winters?
"That's the biggest shock," says Sridharan, who was warned by a classmate about the sometimes harsh winter weather. "He said, 'The winter's very bad—but don't worry…you will live to see the spring!'"
…and became a 'student' of hockey
A nice thing about winter, though, especially at RIT, is hockey.
A fan of cricket, the most popular sport in India, Sridharan's only previous exposure to ice hockey had been from movies (such as The Mighty Ducks). But like many on campus, he got caught up in the whirlwind of excitement—and soaring school spirit—surrounding the RIT men's hockey team's trip to the NCAA Frozen Four tournament in 2010.
He began regularly attending games, and learning the sport's intricacies, the following season. "It's a fast-paced game. I like games that are really fast. I still cheer for RIT!"
Sridharan expects to eventually return to India. Along with his RIT degrees, he'll carry a newfound love of hockey and fond memories of watching games in sold-out, high-energy Ritter Arena. "That's something really interesting that happened to me at RIT."
A national trend and economic driver
As RIT and other U.S. colleges and universities have expanded their reach recently to embrace prospective international students, 723,277 came to the United States in 2010–2011—the highest-ever number and up almost 5 percent over the previous year, according to the Institute of International Education. Nationally, most foreign students—almost one in four—are from China.
International students contribute more than $21 billion annually to the U.S. economy, the institute says, with business and engineering the most popular fields of study. New York state hosted just under 79,000 international students this year—the second-highest in the nation to California.
Among master's institutions, RIT ranks eighth in the nation for the most international students, with almost two out of every three enrolled in graduate studies. RIT's total international-student enrollment rose by about 12 percent over a year ago, says Jeffrey Cox, director of RIT's International Student Services. The increase is part of a decades-long trend.
"We've seen nearly 50 percent growth from five years ago and 160 percent growth from 20 years ago," Cox says.
'Home away from home'
Even in a community of more than 21,000 students, faculty and staff, it can be isolating being the only student from one's native homeland—true for 37 students who journeyed solo to RIT this year.
"Being the only one from Czech Republic, I feel I need to excel and leave a good impression on people because I know they will associate it with other people from my country," says Jan Dvorak, a second-year new media interactive development major and International House president. "It forces me to learn English very well and go out and explore."
"I-House," as International House is known, is home—in a true sense—to many international students. One of RIT's "specialty houses," it brings together students with diverse cultural interests to share dinners and other activities.
Another student making the transition is first-year photo major Daniela Solera, from Costa Rica.
"At the beginning, it was hard because it's a different culture and you miss the people you're used to being with. But you start meeting people and making friends, so they make it easier. It has been a great experience!"
Joining one of many RIT clubs devoted to different cultures helps students—no matter how many miles away from home—feel at home. And RIT's largest multicultural student organization, Global Union, encourages interaction among all ethnic groups on campus.
Sridharan says the substantial Indian community, in both the U.S. and Rochester (including the India Community Center in Macedon and the Hindu Temple of Rochester) helped him adjust to life far away from home.
And although nothing beats mom's home cooking, RIT Dining Services tries to make international students feel at home by featuring Asian, Dominican, Indian and Pakistani vendors, along with occasional Chinese, Japanese, Korean, Mediterranean, Moroccan and other ethnic entrées—correlating with some of RIT's larger international student populations. The Market at Global Village offers an array of international foods.
"Each dining location takes pride in educating customers on cuisines from around the world and providing them the opportunity to try new and exotic foods," says Stephen Kingston, Dining Services executive chef and manager. "We continuously work with and receive feedback from international student groups regarding the success of special international menus and future menus."
Patty Spinelli, executive director, adds, "Food is often the way we celebrate life events, and through the diversity of food, students, faculty and staff come to understand cultures and traditions."
That's international flavor you can taste. You can see, hear and feel it, every day, all across one small 1,300-acre pocket of the globe…in Henrietta.
By the Numbers: Where in the World Are They From?
RIT international student enrollment (fall 2011):
International students: 1,831
Countries from: 109
Top countries sending students to RIT:
India: 595
China: 312
Saudi Arabia: 139
Dominican Republic: 104
Malaysia: 78
South Korea: 66
Canada: 72 (Including 12 men's and 15 women's hockey players), Men's hockey players from Israel: One (senior defenseman Daniel Spivak)
Students studying abroad—in Henrietta:
Nine (five from American University in Kosovo and two each from American College of Management and Technology, in Croatia, and RIT Dubai)
Other on-campus resources for international students and others:
For a list of RIT student clubs catering to international students (or anyone interested in other cultures). Go to campuslife.rit.edu/main/clubs/all.
Global Union is RIT's largest multicultural student organization and encourages interaction among all ethnic groups on campus. Go to www.rit.edu/sg/globalunion/gu.
International House is a specialty residence house catering to international students and with interests in different countries, cultures and languages. Go to www.rit.edu/sg/ihouse.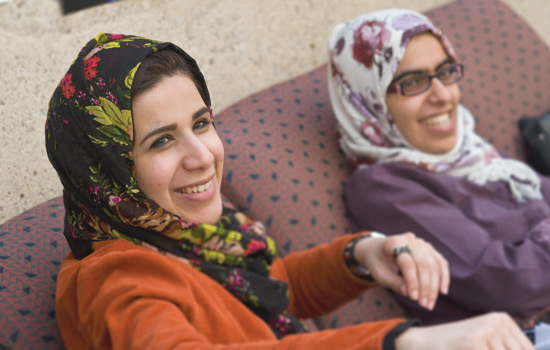 A. Sue Weisler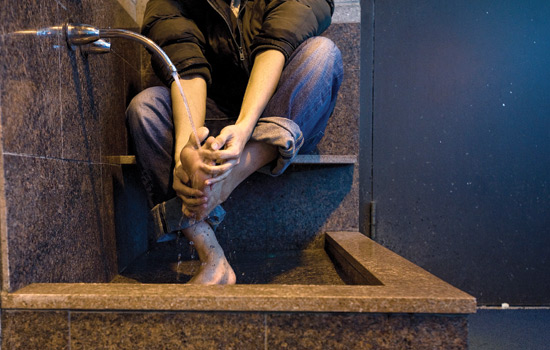 A. Sue Weisler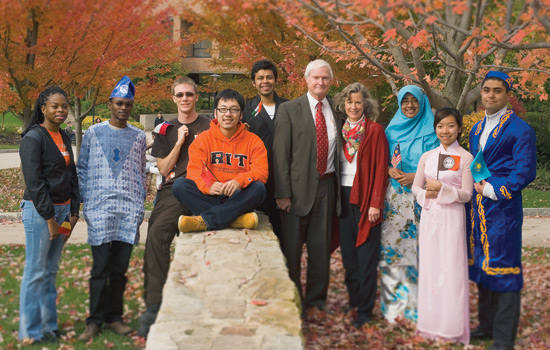 A. Sue Weisler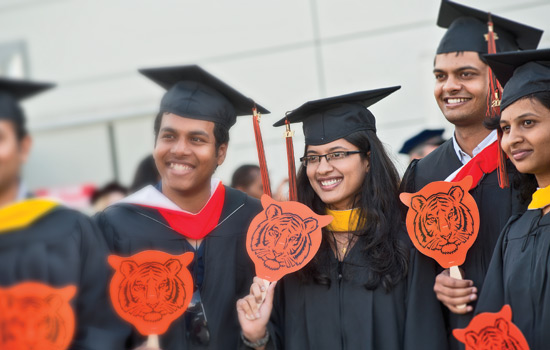 A. Sue Weisler