GMAT/GRE Waiver for Fall 2020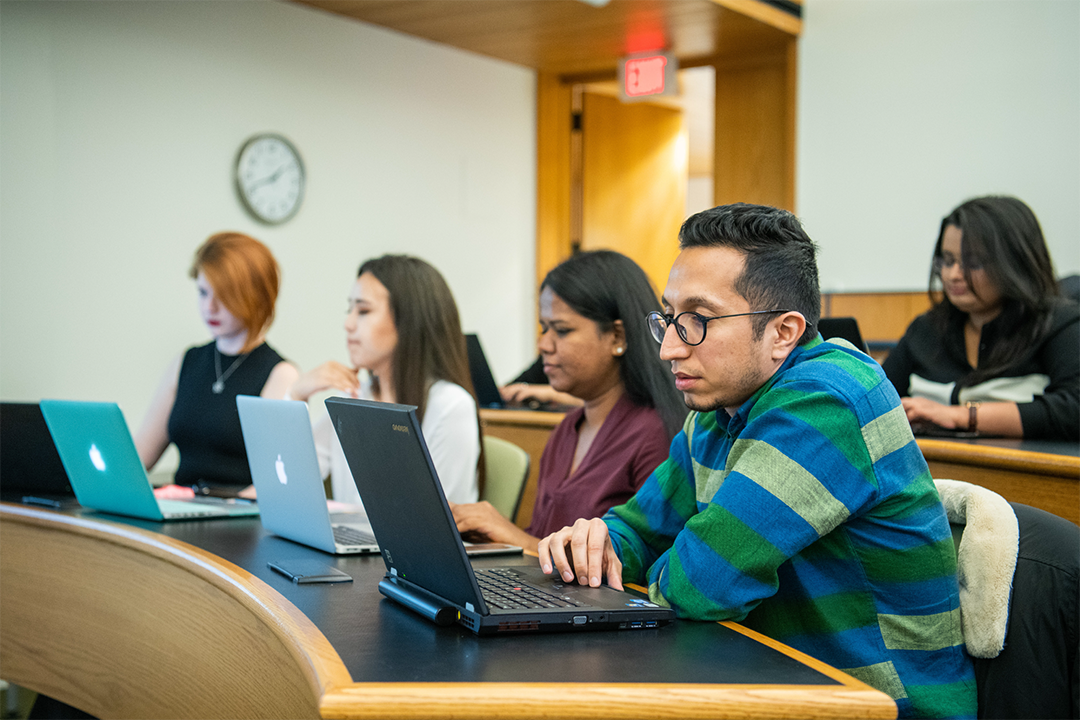 Due to the uncertainty created by COVID-19 and the closure of standardized test centers, effective immediately Saunders College of Business at Rochester Institute of Technology (RIT) is accepting applications for fall 2020 without standardized tests; GMAT/GRE. Applicants will be reviewed with the information submitted and may be requested to provide additional information or an online interview. For international applicants: if TOEFL or IELTS English proficiency exams are not available, RIT will accept the Duolingo English Test* for 2020 applications. Students admitted with Duolingo scores will take an additional English test at RIT.
With rolling admissions, we are still accepting applications by waiving GMAT/GRE scores and have scholarships available.
International students may be able to work in the United States for up to three years post-graduation with our 24-month STEM Optional Practical Training (OPT) period extension after their initial 12-month STEM OPT period. Explore F-1 STEM OPT Qualified Graduate Programs and apply today!
Find out more about Saunders College of Business programs at an upcoming webinar.
Four Reasons to Choose Saunders
Career Oriented
Saunders College Industry Advisory Boards represent the experience and leadership of our corporate partners. These seven boards are a vital resource, providing the input and feedback needed to ensure business programs are delivering the skills and knowledge to help companies get ahead of their competition. Students also have access to the Career Services and Cooperative Education Office that places more than 4,500 students in more than 6,200 positions, with nearly 2,200 employers annually. Along with these resources, they can tap into a worldwide network of 135,000 RIT and 25,000 Saunders alumni.
Financial Aid Options
Graduate scholarship and financial aid options at Saunders College can help you earn your degree at a lower cost. Financial aid options for graduate students include scholarships, paid Graduate Student Worker positions, private or government loans, as well as optional paid cooperative education opportunities. Last year, RIT provided more than $24 million in financial support to approximately 2,600 graduate students.
Invest in Your Future
A graduate degree delivers a high return on investment as they are the key to a lifetime of higher earnings. See for yourself how, as BusinessBecause.com shares in their article, The Average MBA Will Increase Their Salary By 77% After Graduation.
94% Outcomes Rate
At Saunders College, we pride ourselves on our low student-faculty ratio. Our faculty care about your career success! Our formula of experiential education, corporate partners and having one of the oldest and largest cooperative education programs in the world leads to our 94% outcomes rate across all programs.
Apply Today!
Your decision to pursue a graduate degree is an important decision. Our goal is to make the application process as easy as possible so you can focus on what it takes to make the most of your degree. You can finish your application on your schedule, but start your application today to make sure you do not miss any important updates. Once you complete your application, you will receive a quick admissions decision. Once accepted, your decision will also include information on available scholarships.
Deadlines
Saunders College of Business has rolling admissions, which means that you can apply at any time. International students need to apply eight to ten weeks before fall orientation (August 18) to leave sufficient time to secure a visa. This ranges June 10 -24, 2020. For start dates of each graduate program, please refer to our Masters of Business Administration and Masters of Science degree comparison charts.
Stay up-to-date on our response to COVID-19.
Saunders College of Business is one of nine colleges at Rochester Institute of Technology and is accredited by the Association to Advance Collegiate Schools of Business International (AACSB). Recognized and ranked internationally, Saunders is home to over 2,300 undergraduate and graduate students enrolled in programs across RIT Global Campuses in Rochester, New York, Croatia, Dubai, Kosovo and China. Saunders College works in partnership with RIT's entrepreneurial Venture Creations incubator and top ranked Albert J. Simone Center for Innovation and Entrepreneurship to integrate business education with RIT's world-leading technical and creative programs. With over 25,000 alumni worldwide, Saunders College offers undergraduate (BS), Masters (MS), Masters of Business Administration (MBA), and Executive MBA (EMBA) programs where students gain real-world business experiences through a tradition of applied learning, internships and capstone programs.
*Duolingo English Test option is only available for 2020 applicants