Goodbye, Goodbuy! in full swing at RIT
Recycling program saved 32 tons from landfills and raised $23,000 last year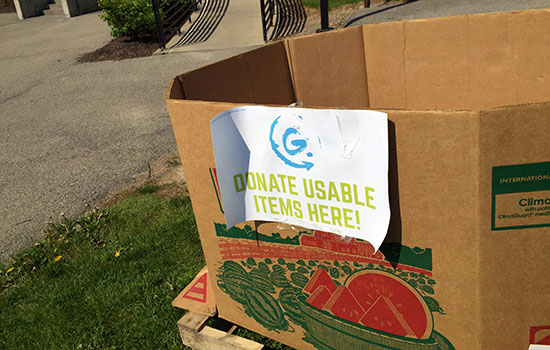 One of the largest college recycling and sustainability programs in the country is underway at Rochester Institute of Technology, as the academic year ends and students move out and donate otherwise discarded items to the fourth annual Goodbye, Goodbuy! event.
Up to 200 volunteers help collect, weigh, sort, store and sell items the RIT students will donate rather than throw out. The items will be sorted, cleaned and sold at thrift store prices to incoming students during orientation week Aug. 21-25.
"Our goal is to reduce waste from the students," said Goodbye, Goodbuy! marketing manager Sally Boniecki, a second-year illustration major from Red Bank, N.J. "Instead of having all this stuff thrown into dumpsters, we want to give students the opportunity to drop it off and sell it cheaply to students coming in August."
Although other colleges in the country may encourage students to recycle rather than throw away items, the numbers involved in RIT's Goodbye, Goodbuy! student-run program are impressive:
More than 32 tons of items were collected last year as students moved out. That is 64,000 pounds of waste not being sent to a landfill and not being paid by the college to be hauled away.
About $23,000 was raised by selling the donated items to incoming students. The money is used to continue the program.
The program has 15 paid staff members this year.
More than 200 students, faculty, staff and administrators helped in the effort last year.
Six tractor-trailers will be storing collected items in B Lot during the summer, and RIT has provided four containers for storage.
Donation areas are marked with the Goodbye, Goodbuy! logo on every dorm floor and near dumpsters on campus apartment complexes. Those living in off-campus housing including Park Point who would like to participate can drop items off at Sol Heumann Hall Study Room on the first floor for processing.
Donations have included small appliances, furniture, clothing, toiletries—just about everything you can imagine in a college dorm room.
 "We collect basically everything except garbage and mattress pads," Boniecki said. Unidentified liquids, weapons, alcohol and prescription medication are also not accepted.
New this year are competitions between clubs and housing groups to see who provides the most volunteer hours. The housing group that has the most volunteer hours in the program will receive a furnished room, and the club with the most member volunteer hours with receive shopping vouchers for the August sale.
Student volunteers are still needed. Volunteers receive a free T-shirt and can shop at the sale a day before anyone else.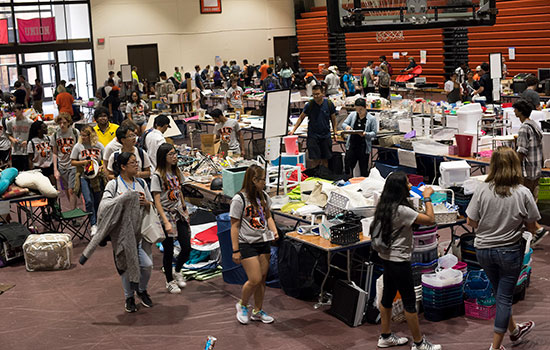 A. Sue Weisler
Topics