Goodbye, Goodbuy! sale starts Tuesday
Recycling program saved 70,000 pounds from landfills and raised $21,000 last year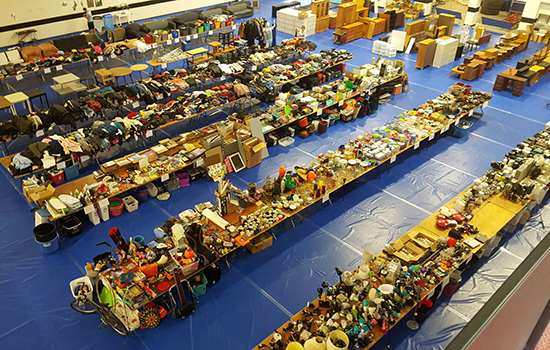 The second Goodbye, Goodbuy! sale is set to begin Tuesday, offering incoming Rochester Institute of Technology students the opportunity to buy used furniture, clothing, fans, lamps, televisions, kitchenware and more at discounted prices.
The items were collected from students moving out last spring. Goodbye, Goodbuy! is a student-led sustainability initiative to help reduce items normally thrown out while offering needed items to incoming students. More than 70,000 pounds of items were collected in the spring. Last year's sale raised $21,000.
The sale runs from noon to 5 p.m. Tuesday in Clark Gym and will continue each day through Saturday from 10 a.m. to 5 p.m.
"Students, staff, faculty, alumni, parents … anyone with an RIT affiliation is welcome at the sale," said Evan Zachary, program manager.
This year's inventory includes nearly 200 lamps ($5 each), more than 60 refrigerators ($25-$35), 24 flat-screen computer monitors ($10), 123 desk chairs, ($5), seven bicycles ($25) and 33 beanbag chairs ($3).
Furniture sold can also be delivered within five miles of campus for an additional fee, Zachary said.
More than 150 volunteers have signed up to help collect, weigh, sort, store and sell items. A dozen students were also employed by Goodbye, Goodbuy! this year, marketing the program, coordinating volunteers and arranging other logistical components.
RIT is one of about six colleges nationwide to undertake such a program. "More campuses are doing this on varying scales, but few are doing this as large as we do," Zachary said. RIT students plan to talk with students at other colleges to help them with similar sustainability programs.
"Our primary goal is to divert waste," Zachary said. Saving students money, having the program pay for itself and getting students thinking about sustainability are all benefits of the program.