Goodbye, Goodbuy! volunteers recognized
Recycling program saved more than 70,000 tons from landfills and raised $21,000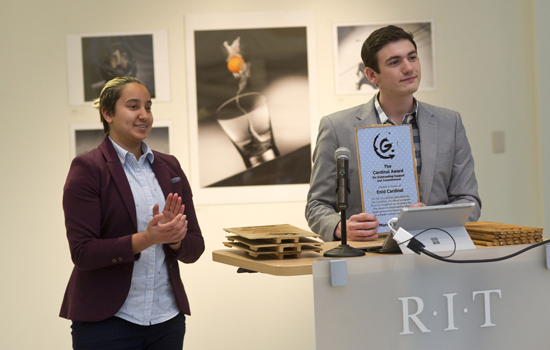 Some of the more than 100 volunteers who helped make the first Goodbye, Goodbuy! collection and sale a success this year were recognized in RIT's University Gallery on Thursday. Their work, which saved more than 70,000 tons of clothing, furniture, appliances and more from landfills, helped students save money and raised $21,000 in sales to be used in next year's recycling program.
"Overall, it went off almost without a hitch," said Rochester Institute of Technology Student Government President Nick Giordano, who co-directed the program with Nim Dhillon, a fifth-year environmental sustainability, health and safety major from Binghamton, N.Y. "If anything, we weren't expecting so many donations."
RIT is one of the largest colleges to undertake such a recycling program, Giordano said. When students move out in the spring, they often toss items into the trash that can be reused. Last year, students were urged to donate items instead of throwing them out. The items were sorted and cleaned if necessary, and sold at thrift store prices to incoming students during orientation week.
Giordano said recycling was important, as well as saving students money and having the program pay for itself. It also was important to get students thinking about sustainability.
Many of the donations — which included odd items including an antique prosthetic leg — were kept in six tractor-trailers parked in B Lot during the summer. RIT President Bill Destler and his spouse, Rebecca Johnson, one of the volunteers recognized, agreed to have overflow donations stored in their barn.
Boxes of binders and other school supplies were donated to an elementary school in Rochester, and toiletries and nonperishable food were donated to local nonprofit organizations. The program also saved RIT the cost of paying for dumpsters to be emptied.
Several awards — with the Goodbye, Goodbuy! logo and words burned into wooden planks taken from a discarded dresser — were given to students, faculty and staff who helped make the project a success. Giordano gave a special award to Enid Cardinal, senior sustainability advisor, for outstanding support and commitment to help make the program a success. He said the award, named the Cardinal Award, will be given each year to a deserving volunteer.
Evan Zachary, a third-year environmental sustainability, health and safety major from Pittsburgh, Pa., is Goodbye, Goodbuy! program manager this year.
Volunteers are needed, and can now sign up. Visit the RIT Goodbye, Goodbuy! page on Facebook, Twitter, Instagram or contact ggrit@rit.edu for more information.
Topics