May 2, 2012
by Paul Stella
Gosnell family commits $5M for life-sciences ed
Thomas H. Gosnell School of Life Sciences formally announced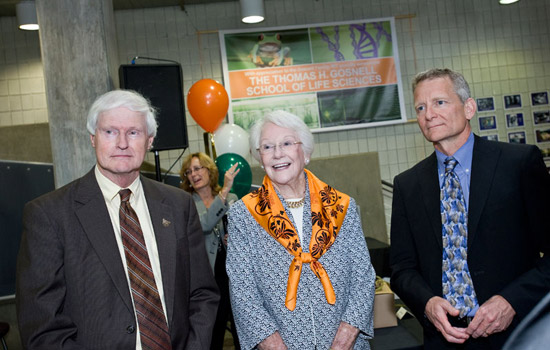 During his lifetime, Thomas Gosnell served as a model of generosity through a commitment of time and resources in support of Rochester Institute of Technology. His legacy endures as RIT celebrates the dedication of the Thomas H. Gosnell School of Life Sciences.
Gosnell's wife, Georgia, joined RIT President Bill Destler to participate in the celebration on May 2. That formal announcement accompanied a $5 million deferred commitment from Georgia Gosnell to benefit the school, which incorporates the university's academic programs in biology, bioinformatics, biotechnology and molecular bioscience, and environmental science—all housed within RIT's College of Science.
Thomas Gosnell, who passed away in 2009, served 15 years on RIT's Board of Trustees and was board chairman from 1987 to 1992. His commitment to the university included significant financial contributions, most notably a $3 million challenge grant that helped expand and enhance facilities for the College of Science. Gosnell Hall, featuring the Center for Excellence in Mathematics, Science and Technology, was dedicated upon its completion in 1998.
"My husband's family has always identified with RIT and I wanted to continue that legacy," Gosnell says. "In addition, we have always felt great affinity for our surroundings and causes related to environmental conservation, so offering support to enhance education targeting the life sciences presented an ideal fit."
The Gosnell family's volunteer service to RIT continues today with son Arthur Gosnell, a member of the Board since 1997.
"The contributions of the Gosnell family to RIT are truly immeasurable," Destler says, "but the Thomas H. Gosnell School of Life Sciences reinforces their continuing impact—empowering a new generation of scientists on a quest to elevate our society. It also serves as a lasting acknowledgment of our gratitude for the foresight of these remarkable benefactors."
When the gift of $5 million is realized, it will target multiple functions, including renovations and enhancements to classrooms and laboratories in Gosnell Hall. Funds will also be directed in support of faculty recruitment and undergraduate research fellowships.
"We are immensely grateful to Mrs. Gosnell for this significant gift," says Sophia Maggelakis, dean of RIT's College of Science. "It will help position our faculty at the forefront of solving complex problems facing our planet, educate our students to become leaders and excellent scientists who will take up the challenges of the future in life science-related fields, and it will help launch the Thomas H. Gosnell School of Life Sciences into a bright and dynamic future."
Thomas Gosnell served in the U.S. Navy during World War II and earned a Purple Heart and Bronze Star. After his military service, he earned a bachelor's degree from Yale University and went on to a distinguished career at Lawyers Cooperative Publishing Co., where he retired as chairman and CEO. Lawyers Coop and RIT maintained close ties throughout the company's history due to its relationship with the School of Print Media.
Family involvement with RIT dates back to Gosnell's great grandfather Ezra Andrews, a founding trustee of the university's forerunner, Mechanics Institute. Gosnell's personal contributions to RIT included funding for eight memorial scholarships and the Arthur J. Gosnell Professorship in Economics. And in memory of his fervent support of RIT rowing, the home of the men's and women's crew teams was renamed the Gosnell Boathouse in 2009.