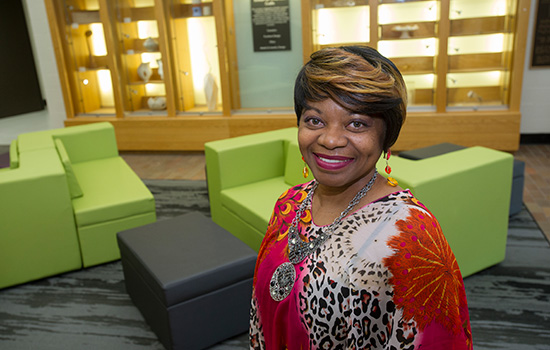 A. Sue Weisler
"Amazing Grace," a hymn published in 1779, is one of the most recognizable songs in the English-speaking world. It also is an apt description for the first person seen when entering the dean's office inside RIT's College of Imaging Arts and Sciences.
Grace Gladney, the affable senior staff assistant to Dean Lorraine Justice and a steadfast presence within CIAS, is "known and loved by everyone," said Twyla Cummings, former senior associate dean for graduate studies and faculty research.
"Her name is so fitting because she is friendly and kind and she handles the day-to-day pressures with such grace," said Cummings, recently named dean of Graduate Education at RIT. "She maintains a high level of professionalism, topped off with an incredible flair for style and fashion. She truly is an asset to the college."
While Gladney nears an amazing four decades at RIT—38 years to be exact—she recalled her original plan was to stay at the university for a relatively short time.
"I was only going to stay for five years and move on," said Gladney, who considers herself a Rochester native after moving to the area from North Carolina when she was 2. "I have seen people come and go as well as the many changes throughout the campus. RIT has grown tremendously since I came here in 1978."
Gladney's roles within CIAS have changed right along with it. After starting out working for the facilities manager, she moved up in the School of Photographic Arts and Sciences to work for program chairs. Following a stint with the college's budget office, Gladney moved over to what was then the School of Print Media (now Media Sciences) and from there into her current role in the dean's office. She's also witnessed two colleges merge into one to form CIAS.
Through the years, Gladney has regularly called on the accounting skills she learned earning her management diploma from RIT in 1982. In addition to her financial and event coordination duties, she regularly serves on a wide variety of committees. Those responsibilities aside, she said she most relishes her interactions with CIAS students.
"I love that you get to meet students from different cultures, countries and age groups," Gladney said. "They bring such a great mix of stories, adventures and ideas that I enjoy embracing."
One of those former students recently called Gladney on her birthday.
"She had been gone at least 15 years," Gladney beamed. "It lets me know that I leave a lasting impression on them."
It all leaves the college's own "amazing Grace" feeling quite blessed.
"I can't imagine working anywhere else," she said. "RIT is a great place to work."
Grace Gladney
Job title: Senior Staff Assistant to the Dean, College of Imaging Arts and Sciences
Years at RIT: 38
What I like best about working at RIT: Interaction with so many different people.
Nominate a co-worker
Staff Spotlight features some of the people who make RIT a special place to work.
Do you know a staffer with an interesting story? Have a colleague who goes above and beyond in his or her daily work?
Send your nominations to athena@rit.edu. Be sure to include the person's name, the reason he or she deserves to be featured and an email address where we can reach you.
Topics