Grad aims to pave the way for more Native Americans pursuing STEM degrees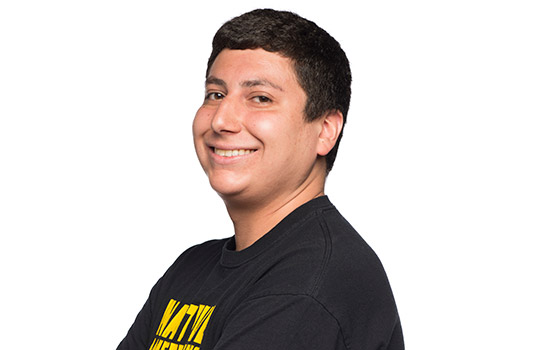 Hard work, engagement with his community and dedication to research have defined Brendan John's time at Rochester Institute of Technology, and he is poised to take the next step in pursuing his dream of becoming a professor.
John, who is graduating with a bachelor's degree in computational mathematics and a Master of Science in computer science, recently earned a National Science Foundation (NSF) Graduate Research Fellowship that will provide him funding to pursue a doctoral degree in computer science at the University of Florida.
"I started performing research in the Computer Graphics and Applied Perception Lab during the summer before my third year at RIT, and since then I have been able to see many facets of academia and learn what areas I like, don't like, and ultimately what I see myself doing for my career," John said. "This experience, paired with the opportunity that comes with the fellowship, has set me on my path to earn my doctoral degree and eventually become a professor."
Raised in Salamanca, N.Y., on an Indian reservation affiliated with the Seneca Nation of Indians, John hopes to serve as a role model to get more Native Americans to pursue graduate degrees in STEM fields. "While the numbers of underrepresented populations in graduate school is rising, the numbers for Native students pursuing computer science doctoral degrees is drastically low," said John.
In addition to excelling in the classroom and research lab, John has served as an executive officer with the American Indian Science Engineering Society and Native American Student Association and has also completed research as a McNair Scholar and Louis Stokes Alliance for Minority Participation Scholar. John also served as the student web programmer with the Seneca Language Revitalization Program (SLRP).
The community has noticed his hard work. In addition to earning the NSF Graduate Research Fellowship, he was one of three students to receive the Division of Diversity and Inclusion's Beacon Award at the Celebration of Excellence on May 3, and he is one of four students to be recognized at the Native American Future Stewards Program Graduation and Honor Ceremony May 12.
"Brendan's achievements have made his community proud," said Tomicka Wagstaff, the Division of Diversity and Inclusion's senior director for academic access and success. "Although Brendan will be missed at RIT, we're excited for him as he enters the next chapter of his life."