Grad defines strength in the face of adversity
Amie Sankoh will pursue her doctoral degree in biochemistry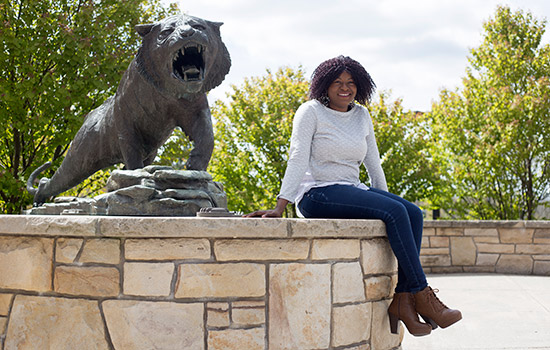 A. Sue Weisler
Amie Sankoh has overcome many obstacles in her life—and her walk across the stage during this weekend's commencement ceremony for RIT's College of Science will mark the beginning of a new chapter.
The biochemistry student, who is deaf and supported by the National Technical Institute for the Deaf, will begin studying in August for her Ph.D. at the University of Tennessee-Knoxville. One day she hopes to use her expertise to conduct groundbreaking research on vaccine development and disease prevention.
As a young student in the west African country of Sierra Leone, Sankoh struggled due to her deafness and a lack of resources. Her parents, refusing to accept failure, made the bold decision to send their 12-year-old daughter to the United States where she would live with her father's best friend and his family, attend better schools and ultimately gain more opportunities.
Sankoh's breakthrough came in high school, where her love for mathematics and chemistry flourished. She also learned sign language, which enabled her to break down communication barriers with other deaf and hard-of-hearing people.
"Once I discovered my love for math, which was very visual, I knew that I could do anything with my life," she said. "My mind was set on attending RIT/NTID because I knew that it was the right fit for me."
Throughout her academic career, Sankoh participated in internships at top companies like Dow Chemical Co. in Pennsylvania and credits NTID faculty and staff for teaching her how to strengthen her communication skills, advocate for herself and develop her love for deaf culture.
"My parents have always had very high expectations of their children and they greatly value education," she said. "NTID has given me the confidence to believe in myself and affirm that I can make it, especially in a tough science field. I've learned how to work with people who are hearing and deaf, study alongside faculty researchers and sharpen my interview skills. I just know that I'm going to make it. I work really hard."
At NTID, Sankoh was a member of the Organization of African Students (OAS), Ebony Club, the Student Life Team and supported Spectrum, the LGBTIQ and straight alliance. And in March, Sankoh also become a U.S. citizen.
"Amie is an amazing person who exemplifies how to grow oneself," said Joseph Johnston, director of RIT's Center for Student Conduct and Conflict Resolution. "Amie's resiliency and optimistic attitude provided such benefits to herself and the RIT community. She is a very special human being and is one of my favorite students I have ever had the pleasure to work with."
Sankoh added, "Life is hard and we all have challenges. I've fallen and have gotten back up every time. I'm proof that there is always a way to overcome challenges."
At the University of Tennessee, Sankoh will have 24/7 access to interpreting notetaking services and will also receive a stipend to conduct her research. She said although her father is somewhat shocked and surprised at her achievements, she knew, deep down, that he expected nothing less.
"My father is so impressed by everything that I've been able to accomplish. And I'm so proud that he will be able to watch me cross that stage and move one step closer to my achieving my dream."