Graduate student finds family in peers
Student Spotlight Sanjay Varma Rudraraju, computer science graduate student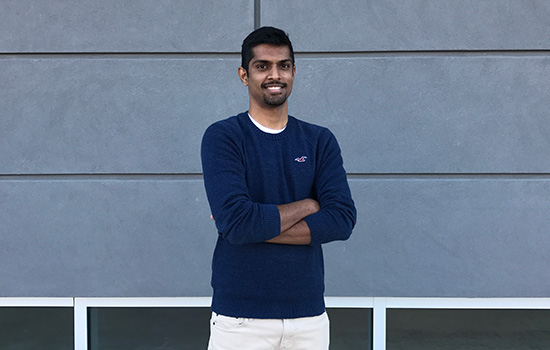 Sanjay Varma Rudraraju, a computer science graduate student from Visakhapatnam, India, is a worker in the RIT library and was a part of a group of students who paid a visit to John Williams School No. 5 in the city of Rochester to read to first-graders last Friday for The Giant Read. In his time away from the library and his studies, Varma Rudraraju enjoys golf, badminton and cooking.
The Giant Read is a signature event of the READ: Hope in Action program created by Rochester Institute of Technology in 2007. The Giant Read partners local universities with Rochester city elementary schools to illustrate the impact of reading through a morning of fun activities.
Question: What brought you to RIT, and why did you choose to attend graduate school here?
Answer: I stumbled across the RIT computer science program when I was first searching for schools that I could apply to for my graduate studies. I was very impressed with the curriculum that RIT is providing and also with the industry-oriented program which ensured that students maximized the utilization of skills. That was what brought me here.
Q: How does life in Rochester differ from life in India, and was it difficult for you to adjust?
A: I come from a city that is pretty similar to Rochester in terms of social life and urbanization. Rochester is the first place that I have been to outside India, and I love it here. The people here are extremely friendly and warm, and that has really helped me in coping with the idea of being far away from home.
Q: How did you get involved with The Wallace Center?
A: I have Amy Lindsay, the circulation desk supervisor, to thank for this amazing opportunity. When my peers and I were looking for student jobs on campus during orientation time, I came to know about jobs at The Wallace Center. My heart was really set on working at the library, as I am a huge bookworm. I went up and talked to the supervisor and I expressed my enthusiasm toward this job, and long story short I'm now an employee there and I absolutely love it.
Q: What are your responsibilities as a student-worker in the library, and what do you enjoy most about the job?
A: I am currently working as a student supervisor and am responsible for handling any escalated issues from patrons and also working with the circulation assistants and resource assistants and staff members to ensure the daily functioning of the library. What I enjoy most about this job is the joy of working with an amazing group of students and staff members. Being thousands of miles away from home is tough, but these people are a big part of the reason that I don't miss my family too much. I call them my American family.
Q: What was your favorite part of the Giant Read, and why is it so important?
A: As a student, you tend to fall into the whole rut of homework, quizzes, projects and other stuff, and you forget to appreciate the things that life has to offer outside of RIT. The Giant Read was one of the most memorable experiences that I've had since coming to the USA. Every moment that I spent with those amazing kids is something that I will never forget, and knowing that I am a tiny piece behind all of those cute smiles that we created has given me a sense of fulfillment.
Q: What are your plans following your graduation from RIT?
A: I hope to work in the field of artificial intelligence. It is the area of specialization that I am pursuing at the Department of Computer Science. Someday, however, I hope to quit everything and follow my passion of cooking for the homeless. It would be my way of giving back to the world.
Lauren Peace compiles "Student Spotlight" for University News. Contact her at lmp1579@g.rit.edu with suggestions.