Graduate student wins prestigious research award
Prestigious award presented by Upstate New York Cardiac Electrophysiology Society to Anthony Salmin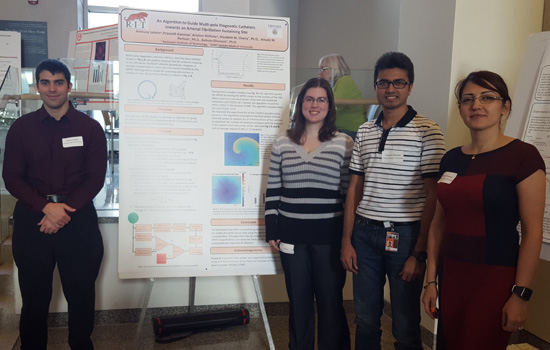 Photo provided
Graduate electrical engineering student, Anthony Salmin, was recently presented the Gordon K. Moe Young Investigator Award for his work in furthering the development of a solution to improve atrial fibrillation therapy. He was presented the award and $1,000 stipend earlier this month at the annual Upstate New York Cardiac Electrophysiology Society annual meeting and conference in Rochester, N.Y.
The award is given for the top research presentation given by medical, graduate and undergraduate students, post-doctoral trainees and fellows and junior faculty at the conference. Salmin's work focused on analyzing data and characteristics from electrocardiograms inside of the left atrium to better detect the source of atrial fibrillation, also referred to as an irregular heartbeat. This fluctuation of the heart's normal beat and rhythm can cause poor blood flow, stroke and complications from blood clots. The ability to better detect the source of the anomaly could lead toward prevention.
"I wasn't expecting any recognition for the project, mainly because of the competition at the conference. Most of the competitors were more on the pharmaceutical side of the atrial fibrillation problem," said Salmin, a graduate electrical engineering student in RIT's Kate Gleason College of Engineering. His work was based on assessing certain trends and what to expect when a multi-polar diagnostic catheter is moved closer to an atrial fibrillation source.
"My work was to take these characteristics and analyze them, then generate an algorithm that will autonomously guide that catheter to the center of the rotor, a general point where the irregular electrical activity is thought to be, and validate this further," he added. Pinpointing the location of the irregular activity could result in better treatments of atrial fibrillation.
Salmin is part of the Biomedical Signal and Image Analysis Lab in the engineering college. He works closely with Behnaz Ghoraani, lab leader, and assistant professor of biomedical engineering, and Prasanth Ganesan, engineering doctoral student and Kristina Shillieto, an undergraduate electrical engineering major. Ghoraani's work in the area of atrial fibrillation was funded by the National Institutes for Health in May. Her associates on that research are Elizabeth Cherry, assistant professor of mathematical sciences at RIT and Dr. Arkady Pertsov of SUNY Upstate Medical University.
"For Anthony, this recognition can lead to bigger and better future for him," said Ghoraani. "The research is being recognized as important, and this application, developing a software add-on to the technology that exists right now is significant in the treatment of atrial fibrillation," she said. "And right now, there is nothing that can provide such feedback. So this is an emerging area. We are seeing other groups doing work in this area since we started the research last year. It is very competitive, and it reminds us how important this work is."
Salmin intends to continue research in this area as he begins an engineering doctoral program at RIT in the fall. "My long term goals after finishing the Ph.D. would be going into industry for a while, getting practical, real world experience to eventually come back and become a professor."
Topics