Graduate students present research to peers and Rochester community
RIT hosts second annual Graduate Research Symposium July 21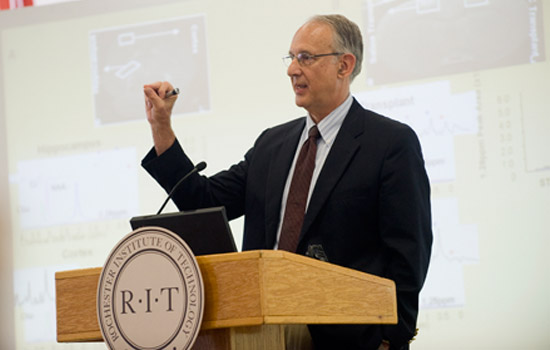 A. Sue Weisler
Paul Solt will present the application he's created for the iPad this week at the SIGGRAPH Conference on Computer Graphics and Interactive Techniques in Los Angeles.
Solt, an RIT computer science dual bachelor's and master's degree student, got the opportunity to show his mobile platform application to his peers and members of the Rochester community at RIT's second annual Graduate Research Symposium on July 21.
He was one of nearly 100 master's and Ph.D. students from all eight of RIT's colleges that presented their research at the event. Solt's mobile application is called Artwork Evolution. It's digital artwork for mobile devices using mathematical expressions.
"Evolutionary computing or genetic art has been around since the early 1990s but was originally done on supercomputers using large processors," says Solt, from Fort Washington, Pa. "I'm creating genetic art in the mobile space. It's difficult and historically time consuming."
Solt ultimately hopes his application will enable collaboration among users and allow them the opportunity to pull images from others' artwork to combine with their own, generating new genetic art.
Students delivered research presentations during three symposium sessions. A broad range of topics was covered including freight traffic flows on the U.S. West Coast, the psychographic factors and use of interactive features on admissions websites by prospective students, optical time division multiplexer on the silicon chip and design for Lean Six Sigma.
Christopher Bailey, a Ph.D. candidate in microsystems engineering, served as the symposium chair. He says the symposium is a day of interactive learning.
"The symposium is valuable for several reasons," says Bailey. "It gives graduate students who don't have the financial means to travel to conferences the experience of presenting their research. It also promotes interaction among the graduate students and gives us the opportunity to learn what our peers are doing in other areas outside of our own programs here at RIT."
Awards were given out for best overall presentation, best poster presentation and winners for each of the three sessions. The winners were:
Billy Vazquez, Ph.D. candidate in astrophysical sciences and technology —Best Overall Presentation: Null Geodesics in the 3+1 Formalism of Numerical Relativity
Mohamed Elshrif, Ph.D. candidate in computing and information sciences—Best Poster Presentation: Analyzing the Electrophysiological Properties of the Heart Using Clustering Technique
David Pawlik, Ph.D. candidate in microsystems engineering—Best in Session One: Sub Micron InGaAs Esaki Diodes with Record High Peak Current Density
Dave Principe, Ph.D. candidate in astrophysical sciences and technology—Best in Session Two: Detection and Analysis of Young Stars in the Horsehead Nebula
Robert Manley, Ph.D. candidate in microsystems engineering—Best in Session Three: Characterization of Lightly Doped, Single Crystal Silicon-on-Glass Substrates via Capacitance Voltage Measurements
Dr. Fritz Henn, associate director of life sciences at the Brookhaven National Laboratory in Brookhaven, N.Y., kicked off the day's symposium with a keynote address. The title of his presentation was "To Be or Not to Be a Researcher."
Henn said to the audience: "If you do something you really care about it's fun. Find something you just can't let go. Once you find an area you can't let go, find a problem you can't let go of either. It's like a marriage. It's an approach you find fascinating and a problem you find fascinating."
For Henn, studying the brain, specifically its affects on depression, is what fascinates him.
"It's been my passion for 40 years," says Henn. "It never lets me go. It's made for an exciting life."
The symposium was streamed live. Event sponsors were Corning, IEEE, Department of Networking, Security, and Systems Administration, RIT Student Government and the Office of Graduate Studies.
"I was extremely pleased with the way the symposium came together this year," says Chance Glenn, RIT associate dean of graduate studies. "Chris and his team did a magnificent job planning this to make it even better than it was last year. I continue to be amazed at the depth and breadth of the research capabilities of our graduate students. The success of the symposium this year is a testament to them, to the faculty that advise them and to the staff that supports them."
To learn more about the symposium, visit http://gradstudies.rit.edu.