Graduates pour hearts into Kosovo brewery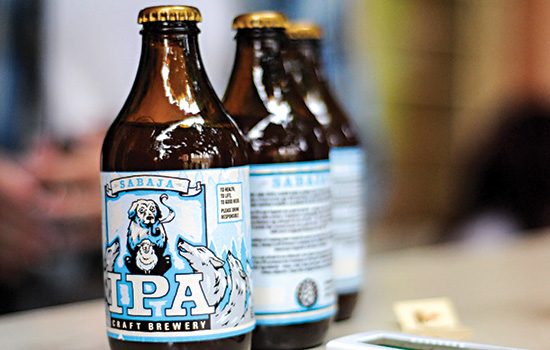 Provided photo
Alex Butler '11 (MBA) and Etida Zeka '09, '10 (applied arts and sciences, MBA) are introducing American-style craft beer to Kosovo. They have opened a brewery, are bottling the beer by hand and selling it to bars in Pristina.
And it's all because their birthdays are nine days apart.
In August 2009, Zeka left her home country of Kosovo and moved to Rochester to enroll in graduate school after completing an undergraduate degree at RIT's global campus American University in Kosovo. Butler, who grew up in Rochester, had studied music at the Crane School of Music at SUNY Potsdam. He enrolled in RIT's MBA program thinking it would open more doors than a music degree alone.
Their worlds collided on the second day of new student orientation. As part of a game, students were told to line up in order of their birthdays. Butler's birthday is July 31 and Zeka's is Aug. 9.
"I thought he was cute," says Zeka.
"It was mutual," says Butler. "I had no idea where it would go but I said, 'Hello,' and we took it from there."
Butler courted Zeka by inviting her on traditional American dates, such as a haunted hayride. The relationship began with Zeka's two friends, who had come from Kosovo at the same time to get their MBAs, joining them.
"He had to date all three of us before he dated me," says Zeka. "He needed my friends' approval."
"That's true," adds Butler. "I literally had to pay for tickets for everyone to go to all of these events."
Beer entered the relationship about a year later. Zeka had graduated and returned to Kosovo where she began teaching, and Butler was finishing his last quarter at RIT. His roommate got a home brewing kit for Christmas and Butler quickly became hooked. He continued the hobby in New York City, where he moved after graduation to work as an assistant engineer in the music industry.
"On the weekends I was brewing and getting really serious about being as authentic as possible with the process," he says.
Zeka sampled one of his full-bodied stout beers when she visited him in New York in January 2012. She had never tasted anything like it. On the plane ride home, she hatched an idea—start a brewery with American-style beer in Kosovo. She shared it with Butler and began doing research.
Zeka found a niche in the market and worked on the business plan. Butler visited six months later to make sure he would like living in Kosovo—his first time leaving the United States—and moved there in August 2012. They partnered with Zeka's brother, Genc, secured funding, registered the business, and had the equipment made in Kosovo to their design specifications. On June 1, 2013, Sabaja Craft Brewery created its first batch. By late summer, there was more demand for their beer than they could supply.
In Kosovo, pale lagers dominate the market. Sabaja Craft Brewery produces ales— an India Pale Ale and an Amber Ale.
"I didn't expect a bitter beer to take off in Kosovo," Butler says. "But people are going wild for it. They absolutely love the IPA."
Butler and Zeka introduced the product to local bars, hauling the beer in a Volkswagen Golf. They also share the beer with guests in a tasting room at the brewery.
Part of their business plan involves educating people about home brewing, a new concept in Kosovo. They are creating a home brewing club to expand the culture of beer appreciation.
A year from now, they hope to have their beer in at least 10 bars and restaurants. In five years, their goal is to expand to a bigger brewery with a more sophisticated system.
"We don't want to get too far ahead of ourselves," says Butler. "We have a lot to accomplish in the next few months, let alone the next year. We are just going to keep working our fingers to the bone and pouring all of our hearts into this beer."
They are saving some room in their hearts for each other.
"There is a proposal in the future," Butler says. "Right now we are both so focused on the business. But something is next."
About Sabaja
The name sabaja was suggested by a bar owner in Pristina, Kosovo. Sabaja is what the ancient Illyrians called the beer they fermented with honey. Today, it also means "dawn" in Turkish Albanian. "To us it's the dawn of new beer," Zeka says.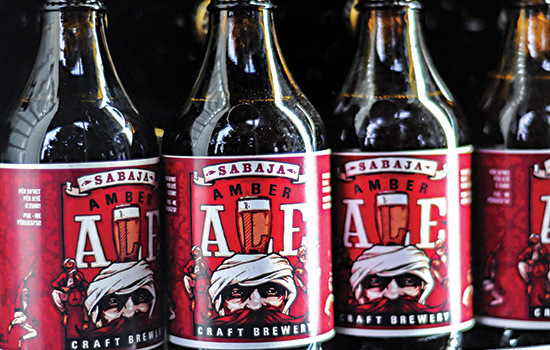 Provided photo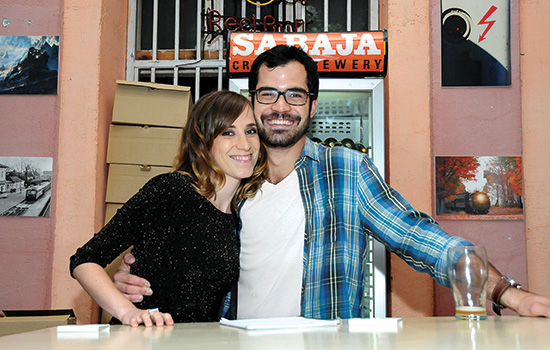 Provided photo