Grant Awarded to Help Improve Problem-Solving Skills for Deaf and Hard-of-Hearing Students
Researchers look to transform the approach used to teach essential skills in STEM fields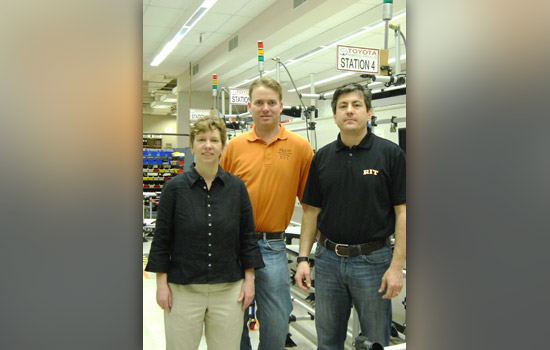 Researchers have found that differences in the way deaf and hard-of-hearing students learn are multifaceted: from the development and mastery of early language skills in both American Sign Language and spoken languages, to the organization of knowledge and individual learning strategies.
Further understanding of these unique differences and providing solutions to improve learning outcomes, particularly in science, technology, engineering and mathematics, the STEM fields, is the focus of new research at Rochester Institute of Technology.
The university has received a $198,172 grant from the National Science Foundation for "Integration of Experiential Learning to Develop Problem Solving Skills in Deaf and Hard of Hearing STEM Students."
A multidisciplinary research team will develop a series of classroom and laboratory modules that rely on experiential learning and structured, visual problem-solving approaches. This will immerse students into a context-rich, industry-like environment with hands-on activities in the Toyota Production Systems Laboratory, located in RIT's Kate Gleason College of Engineering, says Andres Carrano, associate professor of industrial and systems engineering and principal investigator of the grant. He is joined on the research team by Wendy Dannels, lecturer in engineering studies at RIT's National Technical Institute for the Deaf, and Matt Marshall, associate professor of industrial and systems engineering.
"The project represents a critical step in translating knowledge of deaf education into effective pedagogy," Carrano says. "Using experiential learning and a structured, graphical problem-solving methodology, the modules address the barriers that deaf and hard-of-hearing students face in developing problem-solving skills."
The modules will be part of foundation-level engineering courses required for students pursuing engineering and technology degree programs at NTID. Despite an understanding of how deaf and hard-of-hearing students differ from hearing students in the development and application of problem-solving skills, progress lags in the development of effective pedagogy for educating deaf and hard-of-hearing students in the STEM fields, Carrano says.
Critical to the development of problem-solving is the fact that deaf and hard-of-hearing students typically bring less content knowledge to the classroom and often fail to comprehend how variables in a complex system are interrelated.
The team will develop the modules this summer, implement the material over a three-year period and assess learning outcomes by the Center for Education Research Partnerships, a center specializing in deaf and hear-of-hearing education based at NTID. Particular emphasis is placed on the concepts of teamwork, problem solving and process improvement by studying the fundamental behavior of production lines.
Topics