Ground broken on sustainability institute
Building will be hub of sustainable development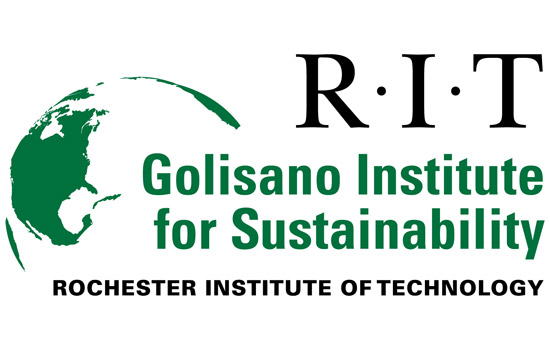 Rochester Institute of Technology broke ground on a state-of-the-art "green" facility for its Golisano Institute for Sustainability during a campus ceremony April 15. The building will serve as a center for sustainability research, technology transfer, education and outreach and will provide a showcase for green construction and design.
The event featured a ceremonial "turning of the dirt," presentations on sustainable design and remarks by Lt. Gov. Robert Duffy and Stella Fiotes, chief facilities management officer for the National Institute of Standards and Technology.
"As a proud alum of RIT, I am very pleased to participate in this important moment in the university's history," Duffy says. "The Golisano Institute for Sustainability will be a model for education and research in this increasingly important field. By developing new innovations in a host of green technologies, the institute will assist in protecting the planet while also serving as an economic driver for the region and the state."
The new building will be designed to meet Leadership in Energy and Environmental Design standards set by the U.S. Green Building Council, which sets goals for waste and energy minimization and reuse in building construction and operation. The campus already features one LEED Platinum and one LEED Gold facility.
The facility will house multiple labs, classrooms and conference rooms dedicated to RIT's leading graduate programs in sustainable business practices focused in material flow, energy utilization and technology and policy. It will also serve as a "living laboratory" to test these practices and will utilize state-of-art building technologies and an advanced facility monitoring system to illustrate performance. The story of its design and systems will also be told throughout the facility, making each space a learning space.
"This new facility will enable RIT, and the Greater Rochester region, to become a world-class hub for sustainability research and education," says RIT President Bill Destler. "We will utilize this resource to exponentially expand our research base while serving as a model for green architecture, design and construction."
Destler added, "We strongly believe that this initiative will enable our region to become 'the location of choice' for companies that are engaged in sustainable technologies."
RIT was awarded a $13.1 million grant through the National Institute of Standards and Technology's Construction Grant Program to build the facility and $10 million in funding from the state of New York to assist with construction.
"The NIST Construction Grant Program is a peer-reviewed and highly competitive effort," notes Fiotes, NIST's chief facilities management officer. "In this particular competition, we received 124 proposals requesting close to $1.3 billion in NIST support. Of those we were able to fund five projects, including this one, with a total of $50 million. So RIT is in a very select group."
"RIT and the Golisano Institute continue to be at the vanguard of the research and innovation that will transform our economy in the years and decades ahead," says Assemblyman Joseph Morelle. "Today's groundbreaking is only the first of many other important changes that will happen here, especially in terms of job creation and development of sustainable energy systems."
"By promoting green technology and adding jobs to the Rochester area, RIT's institute for sustainability is a win-win for everyone involved," adds state Sen. Joseph Robach. "This facility will not only add to the academic landscape of Rochester but will generate outside economic development and career opportunities."
"As we strive to stimulate the upstate economy, our best partners continue to be schools and universities like RIT," notes state Sen. James Alesi, chairman of the Senate Committee on Commerce, Economic Development and Small Business. "In this instance, the institute for sustainability will accelerate education not only in the greater Rochester area and upstate New York, but in fact, globally."
In addition, the Golisano Institute has received significant corporate and foundation investments toward its education and research programming as well as its laboratory facilities, including assistance from Xerox Corp., Eastman Kodak Co. and Caterpillar Inc.
The facility construction and design team is led by LeChase Construction and SWBR Architects with additional support from FXFowle architects, Stantec civil engineering consultants and M/E Engineering.
The Golisano Institute was formed in 2007 thanks to a $10 million gift from Paychex founder and chairman B. Thomas Golisano. It currently houses one of the world's first Ph.D. programs in sustainability as well as master's degrees in sustainable systems and sustainable architecture. The institute conducts cutting-edge research in nanotechnology, alternative energy development and validation, sustainable design and pollution prevention.
"The Golisano Institute is dedicated to enhancing sustainable development through innovative research and education initiatives which will also help create future sustainable innovations and our next generation of engineers, scientist, policy makers and CEOs," says institute director Nabil Nasr. "The dedication of this facility represents the next step in RIT's development as a leading innovator in sustainable development."
##
Note: RIT is listed in the Princeton Review's Guide to 286 Green Colleges, the Sierra Club's Top 100 Green Schools and the Sustainable Endowments Institute's College Sustainability Report Card. The Golisano Institute has also received several national awards for its research and outreach efforts, including the U.S. Economic Development Administration's Excellence in Economic Development Award and the National Pollution Prevention Roundtable's MVP2 Award. For more information about RIT's sustainability initiatives, go to www.rit.edu/fa/ritgreen.