Group launches global health association club
James Harrington presents effort to provide clean and sustainable water sources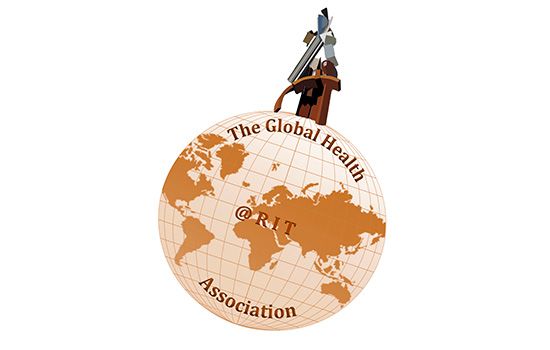 A new student club at Rochester Institute of Technology is taking on global health issues with the goal of extending into the community and forming a regional think tank.
The Global Health Association @ RIT involves students from across campus for a multidisciplinary perspective on health concerns. The association strives to create local and international opportunities for student involvement and will hold free public talks on global health issues.
The lecture series kicks off on Friday with James Harrington, executive director of the Ugandan Water Project, a nonprofit organization that provides clean and sustainable water sources to communities in Uganda. He will speak at 4 p.m. on Feb. 17 in Institute Hall, room 1140, on the RIT campus. The event is free and open to the public. An information session about the Global Health Association @ RIT will follow.
"We plan to have a monthly events with dynamic speakers and panel discussions that will raise awareness of issues that are taking place all over this 'complex planet,'" said John Oliphant, assistant professor in the physician assistant program and faculty adviser, referring to RIT's commitment to reflect the world's shifting needs.
The student-led organization aligns with the RIT Strategic Plan and mission to prepare students to be citizens of a global society, Oliphant noted.
Oliphant and student leadership in the association are seeking to form alliances with like-minded academic groups and organizations on campus, such as the Student Environmental Action League and Engineering World Health, said Matt Noll, a fourth-year physician assistant student from Syracuse, N.Y., and president of the Global Health Association @ RIT. They are exploring partnerships with other RIT colleges and student programs at RIT, with the vision of reaching beyond campus and connecting with other institutions.
"We are committed to engaging a diverse team of students, faculty, staff and community members with specialty subject knowledge in myriad topics," Noll said. "That is how global health problems are solved in the real world."
The next public talk sponsored by the Global Health Association @ RIT will take place on March 24 and will address refugee health issues. Physician assistant and RIT alumna Terri Ragin, who works with refugees in Rochester, will be one of the speakers at the event.
For more information, contact globalhealthassociation.rit@gmail.com or go to https://thelink.rit.edu/organization/gharit/.