Gueldenpfennigs receive prestigious NRS Award
Alumni couple, community business leaders honored for their significant financial and personal contributions to the university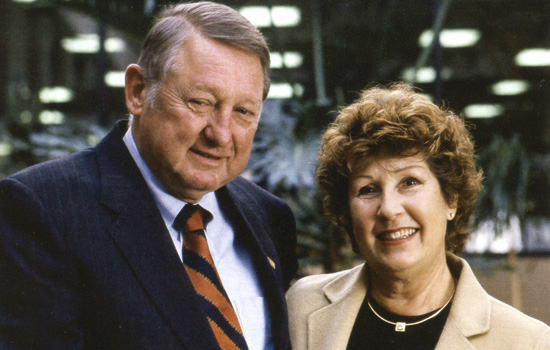 Klaus and Brigitte Gueldenpfennig, top executives at REDCOM Laboratories Inc., will receive the 2014 NRS Award, the highest honor given by Rochester Institute of Technology's Nathaniel Rochester Society.
The Gueldenpfennigs will receive the award tonight (Thursday, July 10) at the society's annual Summer Gala, to be held in newly renovated space in RIT's Wallace Center. The annual honor recognizes individuals who have made outstanding and significant contributions to the university's advancement.
"From our student days to our alumni years, Brigitte and I feel privileged to have associated with many wonderful people at RIT," said Klaus Gueldenpfennig, chairman and CEO of REDCOM and an RIT trustee emeritus. "It is important for us to be part of an organization like NRS that connects the university with the greater community."
"We are so very honored to be recognized with the NRS Award," said Brigitte Gueldenpfennig, who recently retired as vice president of finance at REDCOM, but remains the company's secretary and treasurer. "We're proud to be alumni, proud to be part of the RIT family."
RIT is family business for the Gueldenpfennigs. Klaus graduated with a Master of Science in engineering in 1974 and an MBA in 1977. Brigitte received her MBA from RIT in 1981. The couple's daughter, Dinah Weisberg, executive vice president for Planning and Government Program Administration at REDCOM, earned an MS in software development management in 1997 and her executive MBA in 2003.
"The NRS Summer Gala is our annual celebration of RIT's most valued supporters, and certainly Klaus and Brigitte Gueldenpfennig fall in that category," said RIT President Bill Destler. "The Gueldenpfennigs' impact at RIT has been immense. Their support, both financial and professional, is at the heart of the highly respected Telecommunications Engineering Technology program in the College of Applied Science and Technology. They have also been loyal alumni supporters to Saunders College of Business offering financial gifts and equally valuable strategic guidance. And the role they have chosen to take on as advisors throughout RIT has brought invaluable knowledge and experience to our faculty, our university leaders, our board, and to me, personally."
The Gueldenpfennigs, who live in Penfield, have been very engaged with the university, serving on a variety of committees over a number of years. In 1988, the couple was honored with the Distinguished Alumni Award from Saunders College, and in 1990, they received the college's Herbert W. Vanden Brul Entrepreneurial Award, given annually to successful individuals who developed a business that improved the Rochester economy or whose innovative management skills changed the course of an existing business.
Klaus Gueldenpfennig became an RIT trustee in 1992 and has been trustee emeritus since 2006. Over the years, he has served on several board subcommittees, including Enrollment Management & Career Services, Buildings & Grounds and Finance. He's also been a member of the Kate Gleason College of Engineering's Center for Quality and Applied Statistics Council.
Brigitte Gueldenpfennig has been actively involved with Saunders College, and has been a member of the Dean's Advisory Council since the early 1980s.
The couple's telecom company, REDCOM Laboratories, employs 67 RIT alumni, and the Gueldenpfennigs have been strong financial supporters of the university, both personally and through their business.
At Thursday's gala, attendees will hear remarks from RIT REDCOM Scholar Annette Eko, who will graduate in May 2015 with bachelor's and master's degrees in telecommunications engineering technology. RIT will also dedicate a new NRS Honor Wall, which recognizes the more than 970 members of the Nathaniel Rochester Society. The mission of the Nathaniel Rochester Society is to develop friends and ambassadors to promote and support RIT. The wall is located on the first floor of The Wallace Center, which was recently transformed with additional technology, better lighting and new seating and study areas to increase the number of students who can use the space.
The NRS Award, established in 1972, has been permanently endowed through the generous gift of Mr. and Mrs. Marcus N. Barbour, charter members of the Society. Past recipients of the NRS Award include the Gosnell family, B. Thomas Golisano, E. Philip Saunders and Thomas and Ebets Judson.