Heated tents give students more outdoor options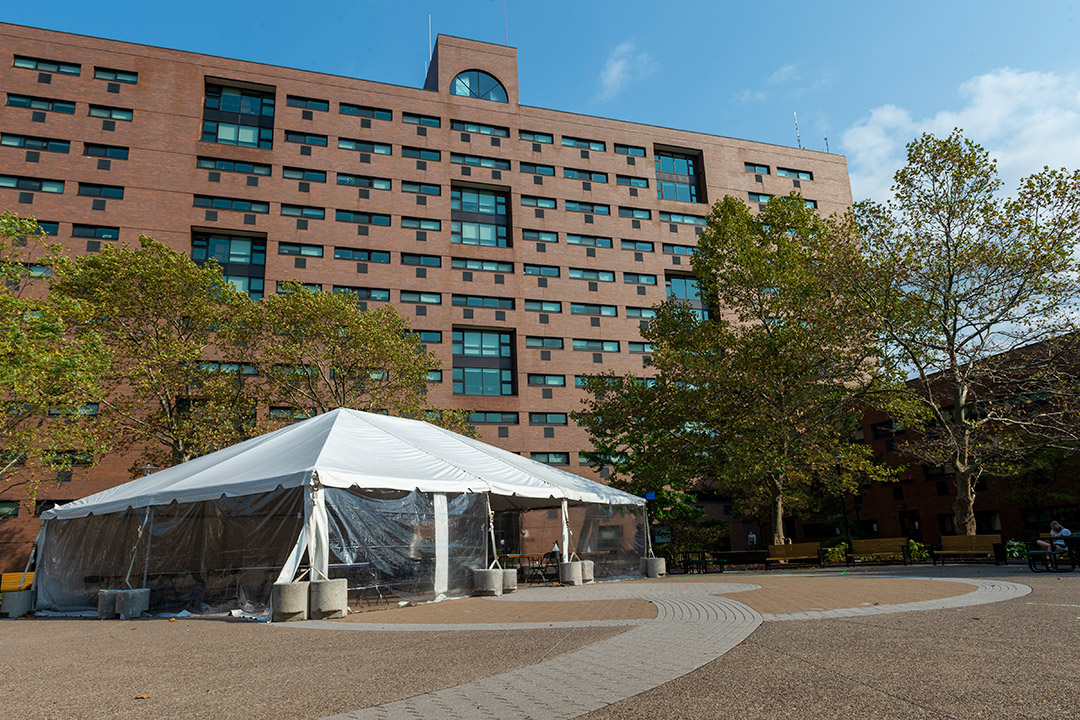 Elizabeth Lamark
Two large, heated tents are being erected to offer students on the RIT campus additional options for dining, studying, and safely socializing.
One tent, 30-feet by 40-feet, was set up Friday in Frisina Quad near The Commons and can accommodate up to 32 people safely distanced. The other, 30-feet by 30-feet, will be outside Crossroads in Global Village on Monday and can hold up to 24 people.
The tents, which will be heated and open 24 hours daily through the end of the semester, will have tables, chairs, and trash cans.
"We were looking for different experiences for our students and creating new spaces for them as the weather gets cooler, and we thought it would be nice to have some outside areas, too," said Howard Ward, associate vice president for Auxiliary Services. A fire pit outside Salsarita's in Global Village will also be activated as the weather turns colder.
Due to municipal codes, the tents must be taken down after six weeks. Additional indoor options are being reviewed for spring semester.
Ward said dining spots available prior to the pandemic have been reduced this semester to allow distancing and more space for people to walk in and out. "We're looking at options to recapture some of that space now that people have gotten into the mode of distancing and moving in and out," he said.
The Davis Room could be opened in the evenings for additional dining options, and plans are in the works to expand options for students to eat, study, or hang out on the first floor of the Gene Polisseni Center and the main floor of Ritter Arena.
"There is an area already on the top level of Ritter for students to study because we had to scramble to get some space because we didn't know what to expect," Ward said. "After the break between semesters, we'd like to make it a place of destination with food and furniture."
Entrances to Ritter that are closer to the Student Alumni Union may be accessible, and food might be offered in those locations, or with food trucks next to them, as well.
Topics