Helping Haiti through remote sensing; World Bank engineer looks at lessons learned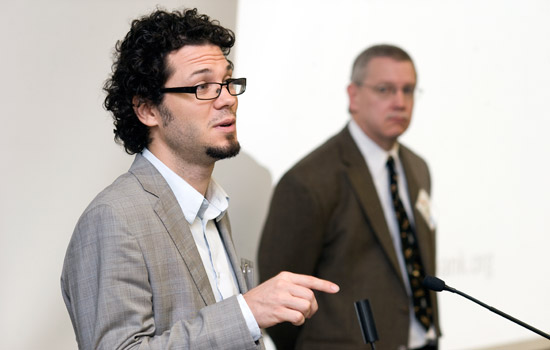 A. Sue Weisler
Little has changed for the people in Haiti following the earthquake that struck Port-au-Prince and surrounding towns last January. David Lallemant, an engineer working in Haiti with the World Bank Group, shared insights with the RIT community into the plight of the Haitian people and how remote sensing data is being used to help them. According to Lallemant, 1.3 million people are still displaced and more vulnerable than ever in a climate of cholera, rubble-clogged streets and continual state of displacement.
He presented "The Haiti Response Effort—Lessons Learned and Future Requirements" at a workshop of the Information Products Laboratory for Emergency Response, part of the Chester F. Carlson Center for Imaging Science, Nov. 12.
Following the earthquake, massive amounts of imagery of the destruction and the fault line were collected from aerial and satellite sources. RIT's Digital Imaging and Remote Sensing group contributed to the effort by capturing more than 1 terabyte of aerial images and LIDAR data from Port-au-Prince and Leogane during a seven-day flight funded by the World Bank and ImageCat Inc. Since February, more than 40 terabytes have been downloaded from the Information Products Laboratory for Emergency Response server.
"With all this data there was an outpouring of data products and a huge willingness of people to give their time and effort," Lallemant says. "And because the data was open, they could do that."
The open information enabled Haiti to leverage expertise worldwide, providing more information about the country than ever before. Engineers and scientists at universities and in the private sector produced cutting-edge products for damage assessment, he says. Remote damage analysis has been used to prioritize zones and create multi-hazard damage maps.
Getting the information products that analyze the data to the decision makers who can use them has been less successful, Lallemant notes. "They are only useful if used to inform decision makers."
This downside highlights one of the challenges facing post-disaster response efforts. Finding partners on the ground is essential to ensuring needs-driven analysis. Bringing the decision makers into the process from the outset creates a collaboration and "ownership" of the results.
Another challenge involves using ground-based assessment to verify and improve models of remote sensing analysis, Lallemant says. "Because not all damage can be detected from above."
Lallemant's insights will serve to guide the research and development activities of the Information Products Laboratory for Emergency Response, which seeks to improve the utility of remote sensing technology for disaster managers.
##