'Heroes: A Video Game Symphony' set for Oct. 26
Multimedia show features music, art from popular video games and panel discussion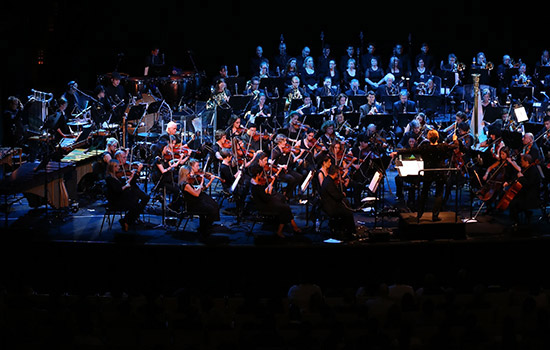 Jane Dempster
The Rochester Philharmonic Orchestra will continue its special video game concert series with "Heroes: A Video Game Symphony," at 8 p.m. Thursday, Oct. 26, in Kodak Hall, Eastman Theatre. The show—the story of a hero's journey told through the fantastic worlds of video games—is co-sponsored by Rochester Institute of Technology's MAGIC Spell Studios, RIT's Center for Leadership and Civic Engagement, Upstate Region Interactive Technologies Hub and The Strong. Cosplay (costume play) is encouraged at the performance.
Led by guest conductor Miriam Burns, the multimedia performance features music and art from popular video games The Elder Scrolls, Final Fantasy, BioShock, Portal and more, together with Rochester chorus group Madrigalia. Following the performance, Shannon Symonds, curator from The Strong's International Center for the History of Electronic Games, will lead a free panel discussion alongside Burns; Rob Mostyn, digital games hub coordinator for RIT's MAGIC Spell Studios; Mark Watters, director of the Beal Institute for Film Music and Contemporary Media; and Ryan Hamlyn, co-producer of the event.
"Rochester happens to be a hot-bed of sorts for video gamers," said Symonds. "Not only does The Strong host the World Video Game Hall of Fame, which includes several of the concert's featured games, but this collaboration between the RPO, RIT and The Strong focuses attention on the vibrant, growing local gaming industry."
RIT, which was recently named one of three Digital Gaming Hubs in New York state, hopes to increase the economic impact to New York state by fostering innovation and creating collaborative activities that spur new games or companies as well as providing resources and mentoring to encourage students and entrepreneurs to enter the growing gaming industry. In addition, the gaming hubs will assist existing companies with gaming concepts, technologies and trends and host events focused on assisting the gaming community.
"RIT is leading the way in Rochester by fostering innovation and creating collaborative activities like this that encourage students and entrepreneurs to enter the games industry," added Mostyn. "Exciting games and digital media experiences are being created right here in Rochester by students and local studios like Darkwind Media, Workinman and Second Avenue Learning."
RIT's MAGIC Center is a university-wide research and development laboratory and a production studio that assists in efforts to bring digital media creations up to marketplace standards and commercialization. Faculty, staff and student researchers, artists and practitioners come together to create, contextualize and apply new knowledge in a multitude of related fields and disciplines as appropriate not only to STEM or the arts and humanities, but their intersection. RIT's MAGIC Spell Studios, which will open a new building in fall 2018, focuses on nurturing and growing new companies and publishing and distributing their projects. In addition, RIT's game design and development program was recently ranked second at the undergraduate level and fourth at the graduate level, according to the 2017 rankings from The Princeton Review.
"What is startling is the power of this sub-sector of tech," added Heidi Zimmer-Meyer, president of Rochester Downtown Development Corp. "Video games are where technology and art really connect. Game developers, software designers, coders and hardware engineers collide with animators, composers, graphic artists, storywriters and musicians. They become these huge collaborative experiments that celebrate the creative mind and attract a massive audience. And Rochester has now become a significant growth center for this rapidly advancing global industry."
Tickets for the concert start at $24 and are available online at rpo.org, by phone at 585-454-2100, or in person at the RPO's Patron Services Center (108 East Ave., Rochester) and at all Wegmans That's T.H.E. Ticket! locations.
Topics